Rangers: Charles Green's takeover plan 'not short-term'
Last updated on .From the section Football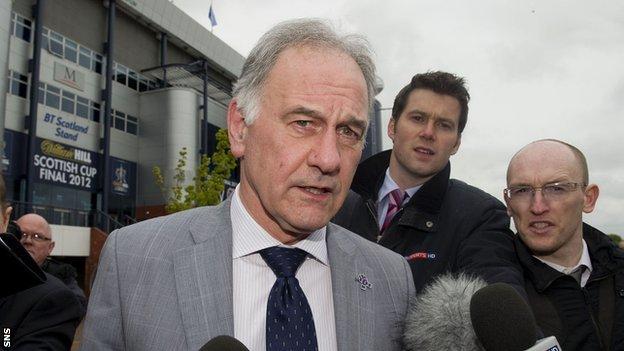 Charles Green says his Sevco consortium view their prospective ownership of Rangers as a "five-ten year plan".
Green has revealed the names of two members of his group, Indonesian investor Jude Allen and Mazen Houssami, a lawyer from the Middle East.
And a Singapore family trust is also involved in Sevco.
"I can assure fans that it is very easy to raise money, even in this financial market, for an institution like Rangers," Green told Rangers' website.
"Raising the real best type of money that's going to help us expand the club, develop the club in the Asian markets.
"The reluctance to reveal investors initially was because a lot of these investors are offshore trusts and individuals who didn't want their name in the press and media because they, like everyone else in the world, have been watching the Rangers story unfold through the media since February and indeed before that and these people are not publicity seekers.
"They want to invest in the football club for the right reasons and the other problem is that we have got an extensive list of interested parties and that list is growing daily.
"Since the announcement was made we have had a number of people who were not in my original contact list and some of those are local people that we are speaking to.
"We have visitors today at the club, we had visitors yesterday - all of whom are interested in becoming investors. That's great news for me because first of all it shows there is a belief that this club can be rescued."
Rangers' administrator Duff & Phelps are currently in the process of contacting the club's creditors to offer a company voluntary arrangement.
If a CVA is achieved, the Ibrox side could continue in their current form. Should the offer be rejected, Rangers would attempt to relaunch as a new company.
The Scottish FA this week upheld a 12-month transfer ban handed to Rangers in the wake of breaches of the governing body's rules.
"Unfortunately for us we don't know if the CVA will go through," said Green. "We don't know if we can get the transfer embargo overturned and these two things do have a material impact on budget.
"So we've approached this with complete flexibility and we have approached it on the basis that this not a one-year or two-year deal, this is a five-ten year plan.
"So I have to balance which of the investors are going to be best for this football club."
The transfer embargo means Rangers may be unable to replace squad members, should players exercise their right to leave for a reduced fee as agreed by their wage reduction plan in March.
"What I would expect, notwithstanding those agreements are in place, is that these players will have the opportunity to sit down with myself and the manager [Ally McCoist] so that we could explain what the plans are for the club what we plan to do over the next two or three years," added Green.
"To my mind if we can't sign anyone but we can keep the existing players why wouldn't we win the league?
"Of course the big problem in all of this is the agents.
"I have the fortune - or misfortune as the case may be - of floating the biggest soccer agency in the world a few years ago so I understand the market and I understand the pressure that is put on players by their agents and it is difficult. However it is a challenge we will have to face.
"We are going to do whatever Ally wants to do. We are backing Ally and he knows that. I have had a number of meetings with him now and he understands where we are coming from and he is very happy, in my view, with what he has seen and heard."