Former United star Yorke inspires Sierra Leone youth
By Mohamed Fajah Barrie
BBC Sport, Freetown
Last updated on .From the section Football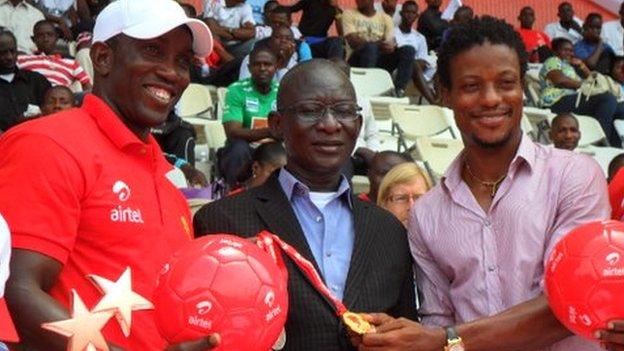 Former Manchester United star Dwight Yorke has launched a youth competition in Sierra Leone aimed at inspiring the country's youths to become future stars.
Yorke, 40, launched the male and female Under-17 tournament in Freetown on Wednesday on behalf of the English giants and a major mobile phone network.
"The competition is all about giving opportunities to the young boys and girls to not only get out of their country but also test their skills against other talented kids in Africa," he told BBC Sport.
"The boys and girls will also go to Tanzania and will be taught the basics of football by Manchester United coaches."
However, only the best two players in both the male and female categories will undertake the Manchester United clinic.
Yorke said the competition is aimed at developing the youth in Sierra Leone as well as other parts of Africa where the mobile company is operating.
This is the second edition of the tournament and the winning team in both the male and female categories will represent Sierra Leone in a 16-team Pan-African tournament in the Kenyan capital Nairobi later this year.
Youngsters at the launching ceremony told BBC Sport that the former Trinidad and Tobago international, who won the European Champions League in 1999, is already making an impact.
"The presence of Dwight Yorke in Sierra Leone has inspired me and other youngsters," said Patrick Gbinda.
"We want to follow his footsteps and that of our legend Mohamed Kallon."
Kallon, who previously played for Italian giants Inter Milan among other clubs, was present at the launching ceremony alongside Sierra Leone's Sports Minister.
And Yorke, who scored over 100 goals during his Premier League days and currently works as assistant coach to United's reserve side, hopes that the tournament may produce more players like Kallon in future.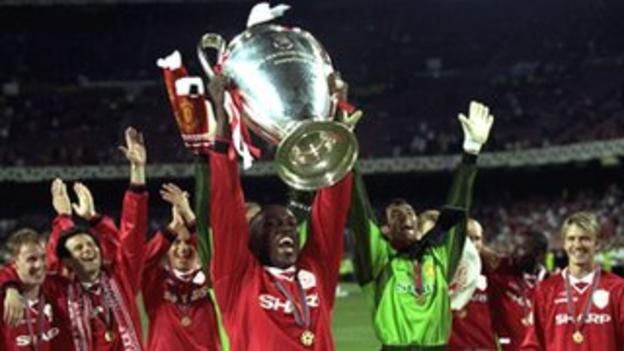 "Sierra Leonean football has been in the wilderness for some time - in the shadow of many African nations - but now there's a great opportunity for you guys to produce quality," he said.
"Mohamed Kallon was the first superstar to come out of this country and you need to produce more like him to put your country on the map, qualify for Africa Cup of Nations and hopefully get to a World Cup too."
Despite coming from a country of just over one million inhabitants, some four times smaller than Sierra Leone's, Yorke contested the World Cup with Trinidad and Tobago in 2006.
Sierra Leone, meanwhile, has only contested two Nations Cup tournaments - way back in 1994 and 1996 - and has never qualified for a World Cup.
However, the Under-17 side did participate in Fifa's Under-17 World Cup in 2003, after finishing runners-up in that year's African championship.
This year, the Under-20 side is harbouring hopes of reaching the African finals for the first time - with a second round clash looming against Cameroon.
"From what I've heard, the future of Sierra Leone football seems to be bright. The youth teams are doing well and the senior team has beaten South Africa and other African nations," said Yorke.
"Sierra Leone are moving up the Fifa rankings so that is a positive step, but the foundation needs to be maintained and improved upon on for the future of football in the country," he warned.