Balram Chainrai makes offer to buy Portsmouth
Last updated on .From the section Football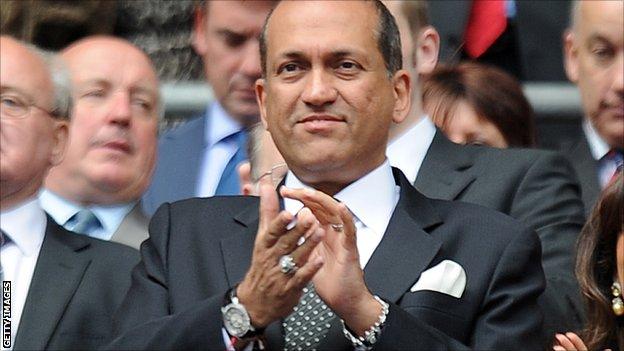 Former Portsmouth owner Balram Chainrai has made a firm offer to buy back the debt-ridden South Coast club.
Pompey are currently £58m in debt after previous owners Convers Sports Initiatives went into administration.
Chainrai is owed around £19m by the club but previously stated he would not let them be liquidated.
"I'm a businessman but I realise that the club will only have value if it is successful. I now want to turn things around," said Chainrai in a statement.
Administrator Trevor Birch, from PKF, revealed Chainrai's offer was the only firm bid made for the stricken club, who could be out of administration by the start of July if Pompey's creditors accept his proposal.
The proposal from Chainrai would form the basis of a Company Voluntary Agreement (CVA) - the only way apart from folding that the club could get out of administration.
"Nobody wants to see this much-loved club collapse into either liquidation or administration again so it is essential that all parties work together to bring stability back to Fratton Park," said Birch.
"It is the least that fans, staff and players deserve after the turbulence of the past few years."
For Hong Kong businessman Chainrai it would be the third time he has become owner of the south-coast side.
"I now want to turn things around at Portsmouth and see the club regain its rightful position," he added.
"The success of this goal can only be achieved if all parties with a vested interest in the club's business work together.
"Let's not be under any illusions though: we are planning to take on a club with severe financial problems that cannot be fixed overnight.
"I don't have a magic wand but many important elements - a proud history, passionate supporters and one of the country's top managers - are already in place and provide a strong platform on which we hope to build stability."
A takeover by a Supporters' Trust had been muted, while Birch said there may be another interested party in buying the club.
But, with time and money running out before the Football League Annual General Meeting at the end of the month, Birch and Chainrai have had to act to stop the club from being liquidated.
"PKF has not received bids from any other potential buyers and we do not expect any new bidders to emerge before the club runs out of money," said Birch.
"The Supporters' Trust is working hard to make a proposal but as yet is not in a funded position to make a bid.
"We've made it clear from the start that a new owner would need to demonstrate that it can not only fund a CVA that is acceptable to creditors but also cover the club's ongoing operating losses.
"Only [Chainrai's company] Portpin has been able to give us the necessary assurances that the funding will be in place. This is important because at some stage it will have to give the Football League those assurances too."