Brendan Rodgers in for long term at Swansea - Lee Trundle
Last updated on .From the section Football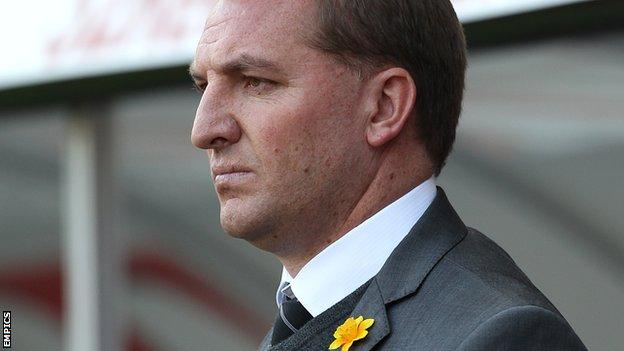 Lee Trundle believes Brendan Rodgers' decision to turn down the chance to talk to Liverpool is proof of his commitment to Swansea City.
Ex-Swan Trundle believes Rodgers wants to build on Swansea's impressive first season in the Premier League.
"I think he's got a long-term plan at Swansea," said Trundle.
"He's come in, he's done a brilliant job and I think he'll want to continue to do that."
Dalglish was sacked as Liverpool manager on Wednesday, leaving the club looking for a fourth boss in two years and Rodgers was reportedly on the Reds shortlist.
But the Northern Irishman rebuffed the opportunity to talk with Liverpool to stay with the club where he has been in charge for two years.
"If you look at Liverpool it's arguably one of the biggest clubs in the world, even though at the moment they're not feeling the success they've had over the years," said Trundle.
"If he would have spoken to them I don't think that the Swansea fans would have had any hard feelings against him. But it shows what type of fella he is when he's just turned that down.
"Any Swansea fan knows what Brendan feels about the club. He's very passionate about it. No one can argue [about] the success that he's brought to it.
"He's only a young manager and some people will think what's he doing [by] not speaking to them [Liverpool].
"I think he's used his head because he knows himself he's got a lot of time in the game and he's only going to build and be more successful."
While Rodgers has declined the opportunity to talk to Liverpool, Wigan manager Roberto Martinez has been given permission by his club to enter into talks with the Anfield club.
Trundle, who played alongside Martinez at Swansea and was later managed by the Spaniard at the Liberty Stadium, believes he would be a good appointment by Liverpool.
"I think if he got the job he would do really well for them because his knowledge of football is second to none," added Trundle.
"As a man I think he'll get the best out of the players."