Hearts owner focusing on sale of club, not Sergio future

By Brian McLauchlin
BBC Scotland
Last updated on .From the section Football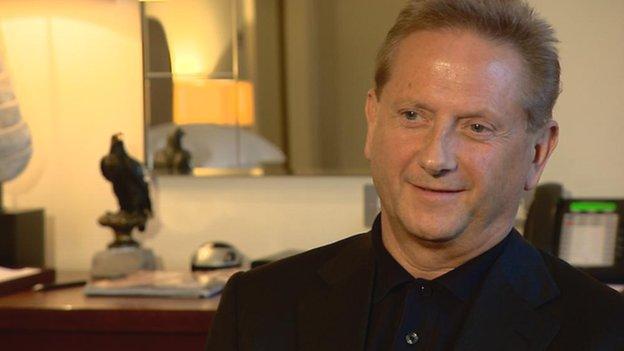 Hearts owner Vladimir Romanov says he is not giving any thought at present to the future of coach Paulo Sergio.
The Portuguese boss is out of contract with the club after Saturday's Scottish Cup final against Hibernian.
"I'm not thinking about these things. I am just considering selling the club. Seven years is a lot for me," Romanov told BBC Scotland.
"This depends not only on myself. If a buyer appears and gives us a good proposal we will consider that."
And he continued: "It is also based on other ideas, like a stadium. Edinburgh needs a stadium.
"Also, I have invested more than £30m so I need to consider that also."
Hearts have an option to extend Sergio's deal and the manager himself would prefer to stay, at least in the short term.
However, as the club continues to cut its budget, it is not clear if it will choose to retain his services.
Romanov is in Scotland to watch his team contest the historic meeting of the two capital teams in Glasgow, but he would prefer that the fans were not making the journey west.
"I want to raise the question why Hibernian did not want to play in Edinburgh, why they wanted to play at Hampden," he said.
"I think it's a very important game. It [a Scottish Cup final featuring Hibs and Hearts] was last played in the 19th century.
"This is a big event for the players, the fans and the coaches.
"I think it should be in Edinburgh."
In a wide-ranging interview, Romanov repeated his dislike of the "monopolies" that exist in the Scottish game.
And, on the live issue of whether a "newco" Rangers should be admitted to the Scottish Premier League, he said: "To keep sporting integrity is very important.
"Football federations should be independent, run according to the country's laws and regulations."
Reflecting on his time in charge at Tynecastle, Romanov felt he now had a greater understanding of the local culture and that that experience had in part repaid the £30m he says he has put into the club.
"Not everybody understands that sports like basketball in Lithuania or football in Scotland are not just a sport, they are part of the culture of a nation," he added.
"It is our lives.
"I now see a different picture and understand the local culture in different ways so it's good what I got back.
"I'm more relaxed now because I know the players and the team and the coaches and my enemies are not so powerful."
Cashflow problems have caused Hearts players to be paid late on four occasions this season. Romanov's aim is for the club to become financially viable without the aid from his parent company, Ubig.
"It's up to the club to find a way to be sustainable themselves," said the former Soviet nuclear submariner.
"You have to work a lot on the academy, on the youngsters who will step up into the team later.
"It's difficult to find good foreigners, as I did earlier.
"Also, I don't have the time to try to buy good foreign players that will be a good fit with Hearts so it's better just to establish a good policy in the academy.
"When I came at first, I always tried to find a mix of local and European guys in the team. My goal was to find a good balance."