Scottish Cup diaries - day five
Last updated on .From the section Football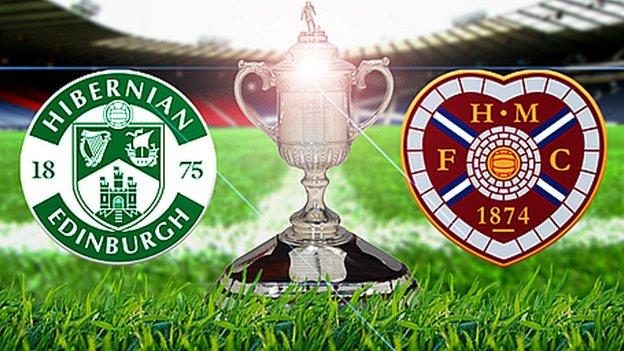 Hibs fan Bob Henderson and Hearts supporter Simon Rennie share their thoughts with BBC Scotland on the eve of the Scottish Cup final.
Bob Henderson, Hibernian fan
It's been murder today. It's really hit home. I've just been on edge.
It was hard to concentrate on work. I was glad when five o'clock came round and I could get out and start the celebrations in advance.
I've been watching Hibs for 40-odd years and I've got nothing to compare this to at all.
We've been to cup finals and even had the odd dabble into Europe and there's nothing compares to this. It's on a different scale altogether.
It's been a shot in the arm for Scottish football, the way it has caught people's imagination.
It's ironic that it's the biggest match Edinburgh's ever had and it's in Glasgow but it just feels right having it at Hampden.
Part of the build-up is going through and going to the pub or walking the streets. Edinburgh's too familiar. It's nice to go to a different stadium.
Murrayfield is a rugby ground. It just doesn't suit us.
We'll get breakfast in the morning. Those of us not driving will have a couple of beers and then we'll go through to Glasgow just after 10 o'clock so we can park easily.
We've got a couple of recommendations for pubs so we'll go through and see if we can get in. I'm not bothered what the pub is like, just as long as we get in - getting a seat will be a bonus.
The closer we get to Glasgow, the more singing there will be in the car.
We'll have the scarves flying out the windows. I like to see that. You get a bit of good-natured banter with the other fans that way.
I'm really excited and apprehensive about this all at once - it's mad!
I don't have any plans to celebrate because I don't want to tempt fate. We'll probably just go to one of the boys' houses.
I'm reluctant to give a prediction. I gave up predicting Hibs' scores a long time ago. All I can say is I want them to win.
Europe? We haven't even given it a thought. That would be an absolute bonus. With the sort of season Hibs have had, to get into Europe would be amazing.
I'm going to make the most of the day. Win, lose or draw, it's all about the event.
A win would be fantastic. If we get beat it would be rubbish but by Monday or Tuesday I would be over it.
I am old enough to be philosophical about it if we lose. I'll survive.
Simon Rennie, Hearts fan
I've been working all day as I'm going to be off tomorrow and hopefully at Tynecastle on Sunday. I've done a double shift today so that no-one can complain when I'm off.
The buses leave at 12. I've got a few customers booked for breakfast at 10am and the bar opens at 11am.
We're not allowed to sell alcohol before that. The police did not allow any extensions to the licence.
The Hearts supporters' club runs from here but we have a good mix. A few of my regulars, staff, friends and family are Hibs fans.
I'm not normally superstitious but I am going to wear the same top that I wore to the semi-final against Celtic. It's at least 10 years old. I hope the top is another good sign that we'll take the Hibees.
If we win, three supporters' buses will come back here to the hotel. We've got a disco in one part and the Champions League on in the other.
It should be a really good party atmosphere.
Craig Beattie can come on at half-time if the game needs a change. Against Celtic we contained them as long as we could and when Beattie came on he changed it.
I think we need to come out in the first 15 minutes and go for it. If we haven't got our noses in front after that, then we should look to find our way in rather than going gung-ho.
If it is 0-0 then we have got Beattie to come on and go at them again at the start of the second half. That's the way I would go.
Even if Beattie is not starting, I think we can get in front before half-time.
It's just unbelievable that this is actually happening. It's just sinking in.
I'm prepared to stick my neck on the line and predict a 3-0 win for Hearts. I'm going to get pelters from the Hibs fans for that.
The banter I've been getting from them for doing this diary has been brilliant!
Bob and Simon were talking to BBC Scotland's Keir Murray.