Scottish Cup final as it happened

By Thomas McGuigan
BBC Sport
Last updated on .From the section Football
Please manually refresh for the latest updates.
Hibs 1-5 Hearts (Barr; Skacel (2); Grainger; McGowan) (McPake for Hibs)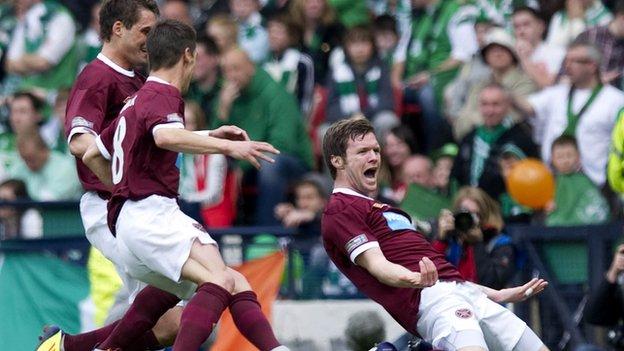 1717: Thanks for your company this afternoon. We'll have highlights of the game on our website later and on BBC One Scotland at 2230 BST. Enjoy the Champions League final and the rest of your weekend, cheers!
1715: Hibernian manager Pat Fenlon: "It was desperately disappointing, we never turned up. No complaints"
1709: Congratulations to Hearts on their convincing Scottish Cup final victory. Paulo Sergio's men proved too strong for Hibs and their 110-year wait to win the Scottish Cup will stretch for at least another 12 months.
1705: It's The Hearts song not Sunshine On Leith that's receiving big licks at Hampden.
1703: From Tam in Carfinon 80295: "Referees can and do influence games. Craig Thomson unbelievable decision not to punish Ian Black for a blatant late elbow did exactly that. He went on to run the game like the excellent player he is.The penalty was actually just a foul and a second booking and therefore a red card. Two crucial bad decisions that set the tone for the whole game... so dissappointing."
1701: Jim using 80295: "Great cup final - second to none for entertainment value. Knocked spots off the Championship play off and will probably do the same to the final tonight! Well done Hearts, worthy winners"
1700: Hearts goal hero Rudi Skacel: "I'm so pleased, there's only one team in Edinburgh."
1658: Hearts prevail in the first all-Edinburgh derby since final since 1896 and they were streets ahead of their fierce rivals this afternoon.
1656: Manager Paulo Sergio, bedecked in his native Portuguese flag, lfts the Cup before allowing his players to enjoy the limelight and maroon ticker tape.
1655: Hearts captain Marius Zaliukas lifts the Scottish Cup, to the thunderous acclaim of the Hearts supporters inside the natonal stadium.
1654: Hearts midfielder Ian Black: "Phenomenal, absolutely outstanding"
1653: The Hibs players collect their medals but, understandably, they look as though they'd prefer to be anywhere but Hampden.
1652: SPLstats: "Hearts' victory today means that St Johnstone will play in next season's Europa League, and will enter at the 2nd Qualifying Round."
1650: BBC Sportsound anchor Richard Gordon says Hibs captain James McPake is giving referee Craig Thomson a bit of an earful: presumably concerning the penalty...
1648: Hearts players are dancing in the centre circle as KC & The Sunshine Band's Give It Up is belted out of the Hampden tannoy. In stark contrast, Hibs' shell-shocked troops stare at the turf.
1647: FULL-TIME HIBS 1-5 HEARTS
1645: To compound Hibs' misery, manager Pat Fenlon receives a ticking off from referee Craig Thomson. BBC Sportsound commentator Paul Mitchell says it was for gesturing to the Hearts fans...
1643: Edinburgh Tom: "It's just pure pain right now."
1642: Three minutes plus any injury time remaining at Hampden. The contrasting emotions are quite incredible...
1639: That furious Hearts goal flurry knocked the stuffing out of Hibs and they will rue defensive mistakes and their inability to keep it tight at the start of the second half.
1636: Stephen Elliott goes close to a sixth Hearts goal with an audacious chip. Hearts boss Paulo Sergio looks a happy man. Will a Scottish Cup final victory strengthen his case for a new contract from the kilted Vladimir Romanov? Will the Hearts owner have a pen & contract in his sporran?
1634: "We want six" is the cry from the Hearts fans; meanwhile thousands of Hibs supporters have seen enough and begin to file out of the stadium. Today's attendance was 51,041.
1632: BBC Sportsound pundit John Robertson: "That goal is the icing on the cake for Hearts"
Hearts goal: Rudi Skacel scores his second and Hearts' fifth as his shot speeds past the despairing sliding attempted block by James McPake and finds the net via the post with Mark Brown stranded.
1630: GOAL! HIBS 1-5 HEARTS (SKACEL)
1628: Ian using 80295: "Shocking decision ruined the final, definitely sending off but never a pen, refs spoil games all the time. Sousa should be booked for diving and waving to get the player booked"
1626: BBC Sportsound pundit Craig Paterson: "This is horrible to watch. There's no entertainment and you don't want to hear the 'ole's'"
1624: Hearts are coasting here, they force a corner but Darren Barr can't repeat his goalscoring heroics from earlier as his effort drifts wide. Hearts have been the hungrier side throughout...
1622: Andrew, an Arab from Dundee , using 80295: "Feel sorry for Hibs.Never a penalty tug outside the box. Any chance you can ask Billy Dodds to actually watch the tv pictures? The only clip on Suso was Suso's left foot clipping the heel of his right foot. Again outside the box."
1620: The collective mood of Hibs fans won't be improved when they see replays of the penalty. Kujabi's shirt tug on Suso was definitely outside the box...
1619: Pat Fenlon and his Hibs assistant Billy Brown survey the wreckage and wonder how on earth they're going to handle the rest of the game. Down to 10 men, 4-1 down and lacking any cohesion. It's proving a bitter experience for the men from Leith.
1618: BBC Sportsound pundit Craig Paterson: "You want the Hibs players to show that it's hurting them as much as it's hurting the supporters"
1616: Shouts of "ole!" accompany every Hearts pass; what an incredible passage of play since the break.
1614: Shattered Hibs have introduced Eoin Doyle for Garry O'Connor. Pat Fenlon's men have been unable to stem the maroon tide in the second half. It's going to be a long, long 30 minutes for Hibs to endure until full time.
1612: BBC Scotland's Clive Lindsay at Hampden: "Mass walk out by Hibs fans as Hearts faithful rock to 'Give it Up'"
1611: Mark Watson on Twitter: "No-one fancy pointing out that the shirt pull was outside the box and suso dived inside the box? #bbcsportsound"
1610: What can you say? The Hearts end of Hampden is ablaze with song and colour as the delerious Jambos celebrate an incredible start to the second half. Two goals, a penalty, a red card - Hearts are in dreamland while Hibs' world has caved in.
1608: BBC Sportscene commentator Liam McLeod: "Suddenly it's a rout"
1606: BBC Sportsound pundit John Robertson: "This could turn into an absolute drubbing; the game seems too much for some Hibs players."
Hearts goal: Paulo Sergio's men are putting Hibs to the sword here. The Jambos are ruthless in the face of more calamitous Hibs defending; Ryan McGowan on hand to head home a fourth goal from close range.
1605: GOAL! HIBS 1-4 HEARTS (McGOWAN)
Hearts goal: What did the Jambos have in their half-time cuppa? Whatever it was it helped them and immobolised hapless Hibs. Kujabi is penalised for a pull on Suso and is shown a second yellow. Danny Grainger shows ice-cool temperament to score from the spot.
1603: GOAL! HIBS 1-3 HEARTS (GRAINGER)
1602: Hearts have a penalty and Kujabi has been sent off!!!
1601: The second half is under way!
1558: Bon Jovi's Livin On A Prayer is belting out the tannoy at Hampden. Hibs will be seeking for their prayers to be answered after a bruising opening 45.
1553: bringthemonjpn on Twitter: "Hibs stepping up to the boiler. If I was a betting man, I would say the cup is close. Good entertaiment"
1551: George, a St Mirren fan, via text using 80295: "Hearts dominated, but think luck/deflections played their part in both their goals."
1549: Pat Fenlon did shuffle his Hibs pack before the break: Jorge Claros trotted off to be replaced by Ivan Sproule.
1547: Hearts are well worth their lead at half time but how important could James McPake's efforts prove? Clearing Suso's effort off the line - which prevented the Jambos going three up - and then scoring himself to reduce the deficit.
1546: HALF-TIME HIBS 1-2 HEARTS
1544: BBC Sportscene pundit Billy Dodds: "This cup final has been well and truly blow wide open"
1542: Leigh Griffiths and Ian Black lock horns but it's more It's A Knockout than WWF as referee Craig Thomson - not unlike Senator George Mitchell - re-establishes calm.
Hibs goal: Ladies and Gentlemen, we have a cup final! Tom Soares sends a wicked cross into the Hearts box and James McPake feathers a shot beyond Jamie MacDonald. Suddenly, Hibs have come alive...
1540: GOAL! HIBS 1-2 HEARTS (JAMES McPAKE)
1539: Hibs boss Pat Fenlon: penny for your thoughts? Do you introdude Ivan Sproule to inject a bit of pace to a lethargic-looking side? Or do you deliver a verbal volley at half-time?
1537: Darren Barr, eager to add to his and Hearts' tally, thunders through a couple of weak Hibs challenges but sees his shot comfortably saved by Mark Brown. Hearts are winning every battle and, with seven minutes until the break, look likely to extend Hibs' Scottish Cup heartache.
1536: BBC Scotland's Clive Lindsay at Hampden: "Stream of Hibs fans already heading for exits. Bit premature. Still plenty of time for Black to be sent off and Zalkiukas to score an own goal."
1535: Hearts go close to a third as Suso collects Driver's sumptuous cross ball, only to see his goalbound effort superbly cleared off the line by James McPake. How important could that prove? Will it spark a Hibs revival?
1534: Time and again Hibs lose possession as they stray into Hearts territory and that two-goal salvo appears to have drained Hibs confidence...
1533: BBC Sportsound pundit John Robertson: "Hearts are dominating this match at the moment"
1531: What a chance for Hibs! Kujabi fires the ball across for O'Connor but the striker lacks composure as he blazes a shot high and wide. Cue howls of anguish from the frustrated Hibs supporters...
1530: Danny Grainger mops up a Hibs attack after Leigh Griffiths looks to play in Garry O'Connor. Hearts have been too fast and too clever for their Edinburgh rivals in the opening half hour.
1528: BBC Sportsound commentator Liam McLeod: "Hearts are dreamland. They can almost touch the Scottish Cup"
Hearts goal: The Jambos double their lead and in some style too. Hibs surrender possession cheaply and Andrew Driver dabs the ball into Rudi Skacel, whose flashing shot takes a slight deflection off James McPake before finding the bottom corner.
1526: GOAL! HIBS 0-2 HEARTS (RUDI SKACEL)
1525: James McPake is penalised for a foul on Stephen Elliott - who is the double of Aston Villa keeper Shay Given - and Hearts are on the crest of a wave after that early Darren Barr strike.
1523: Dimitris Armadoros on Twitter: "1st goal in the Edinburgh #scottishcupfinal by Barr, a Glaswegian! lol #bbcsportsound"
1521: Hibs appeal unsuccessfully for a penalty: James McPake nods a cross back towards goal and Garry O'Connor takes a tumble under the close attention of Danny Grainger. With a shake of the head, referee Craig Thomson indicates he's having none of it.
1520: Hearts, emboldened by Darren Barr's goal, surge forward for a second as winger Andrew Driver glides down the right but his cutback fails to find a maroon jersey. The Jambos are all over Hibs at the moment.
1518: Hibs are all over the place as a simple flighted ball into the box is eventually claimed by keeper Mark Brown.
1516: Pa Saikou Kujabi goes into the book for a scything challenge on Suso; on the touchline Hibs boss Pat Fenlon cuts a concerned figure.
1515: BBC Sportscene pundit Billy Dodds: "It's not a classic goal but it doesn't matter, not a jot to the Hearts fans. What a start from Hearts."
Hearts goal: Paulo Sergio's men draw first blood as Hibs are made to pay for leaden-footed defending. Danny Grainger's corner causes chaos in the Hibs defence; Ryan McGowan's shot is deflected into the path of Darren Barr and the defender stabs a shot home from close range.
1513: GOAL! HIBS 0-1 HEARTS (DARREN BARR)
1512: The tension is palpable: the midfield area is a war of attrition in the opening 12 minutes.
1510: Kujabi tries to thread a through ball for O'Connor but the Hibs striker had strayed offside. Hearts respond immediately, Grainger feeding Driver on the left and the winger's cros is headed wide by Skacel. The game is warming up nicely...
1508: Referee Craig Thomson has a quiet word with Hearts' combative midfielder Ian Black after he clatters into Leigh Griffiths in a thunderous aerial challenge. Griffiths dusts himself down and Black is given a bit of stick from the Hibs fans...
1507: BBC Sportscene pundit Billy Dodds: "The team wins the cup today will be the one that shows more composure."
1506: Neither side has settled yet and the ball is taking a bit of a pasting as nerves affect the Edinburgh giants.
1504: BBC Scotland's Clive Lindsay at Hampden: "Been to Old Firm finals, Scotland games - both football and rugby - but do not think I can remember an atmosphere like this. C'mon Feel the Noize indeed."
1503: BBC Sportscene pundit Billy Dodds: "I think it will be a tactical first half-hour. A goal would blow this game open"
1502: But Hibs successfully repel the danger. Both sets of fans are in fine voice and Hampden is pulsating to the beat of Edinburgh's finest.
1501: The pitch is in superb condition and it's Hearts who are on the attack. Ryan McGowan has the opportunity to launch a long throw into the box...
1500: We're under way!
1459: Handshakes are exchanged before the players take up their positions ahead of the first all-Edinburgh Scottish Cup final since 1896.
1458: The teams make their way down the tunnel and out onto the Hampden pitch: the national stadium is a riot of noise and colour!
1457: Alastair Cole on Twitter: "Well done Hearts and Hibs (for not being Rangers and Celtic). That seems to be the message on #bbcsportsound today."
1456: A battalion of stars from football and politics are in the stand at Hampden. Hibs chairman Rod Petrie is looking dapper in his suit: no revolving bow tie though!
1452: "We're all up for it and here's hoping we are treated to a great spectacle" Hearts legend John Robertson
1451: "This is the best of Scottish football" BBC Sportsound pundit Allan Preston
1450: Both sets of supporters are creating an almighty din inside the national stadium. The Hearts fans are twirling their scarves high in the hair and the Hibs fans respond with green & white flags. What a spectacle!
1448: Hearts fans inside Hampden have a banner saying: blood doesn't show on a maroon jersey
1446: bringhthemonjpn on Twitter: "I missed the 1902 game due to a flight connection. Got my headphones on for this one."
1444: From Jim in Lincolnshire, via text to 80295: "If Hibs win today is Garry O'Connor going to stick to his word and run naked down Princes Street, as he said he'd do after they beat Aberdeen in the semi final?!"
Perish the thought!
1440: Now, then. While we grappled with another technical calamity, Hampden has been filling up nicely. Hibs & Hearts legends Pat Stanton and John Robertson are taking the Scottish Cup on a lap of honour inside the national stadium. A lovely touch!
1430: Apologies for the technical problems that are affecting our live text commentaries. Please manually refresh the live page to avoid further annoyance! Thanks, Thomas
1352: The galloping Craig Beattie has to settle for a place on the bench.
1349:TEAM NEWS FROM HAMPDEN
HIBS: Brown, Doherty, Hanlon, Claros, O'Connor, Soares, McPake, Stevenson, Kujabi, Osbourne, Griffiths.
HEARTS: MacDonald, McGowan, Webser, Zaliukas, Grainger, Suso, Barr, Black, Driver, Skacel, Elliott.
1347:Scotland manager Craig Levein in the Sportscene studio "This is a great way to end the season. There's an overriding feeling of fear: fans are terrified to lose."
1346: Davie: "I'm a Rangers fan but good luck to the Jambos"
1344: BBC Scotland's Clive Lindsay at Hampden: "Players out on pitch. Hearts first and already back in dressing room. Beattie and Taouil last to leave. Griffiths and O'Connor first out for Hibs. And big Garry first back in too. It's pretty cold out there with a nippy breeze."
1342: Splstats on Twitter: "If Hibs win the cup, they will qualify for Europe. If Hearts win the cup, St Johnstone will qualify. Hearts are already guaranteed a place."
1340: Steve O'Sullivan: "Jambo living in Surrey. Went to Tynecastle for the first time back in 1965. Come on the Jambos!"
1337: There's something special about seeing the team buses arriving at Hampden and the players being fired out the door; some wearing headphones, others carrying various bits & bobs. All of them looking tense!
1335:Actor and Hibs fan Dougray Scott: "I'm very excited but can't remember the last time I was this nervous.
"I've watched a lot of Hibs games this season; we've struggled but the game against Dunfermline was very encouraging.
"We played in a manner and with a style I hadn't seen for some time. I'm quietly optimistic but I'm sure Hearts fans are as well.
"Hopefully, God will be looking down on us and will give us a break."
1331:Neil Halliwell: "I am a Don living in Edinburgh. I want a Jambos win, enjoy singing since 1902 too much! #bbcsportsound"
1328: Hibs legend Pat Stanton on BBC Scotland's Sportscene "I think Hibs will sneak it today"
1325: A big thank you to Hibs fan Bob Henderson and Hearts supporter Simon Rennie, who have been contributing Scottish Cup diaries for us in the build up to the Hampden showpiece.
Their entries have given a superb insight into what it feels like leading up to such a huge occasion.
1319: Craig Campbell: "I hope Craig Gordon comes back to Scotland. It was so good seeing him play for club and country prior to moving to Sunderland."
1315:Grantass: "I can't remember the last time i was so excited about a Cup final, and I'm a Gers fan!"
1312: James Gray: "Didn't enjoy Scottish Cup semi against Dundee United. Threw away a lead as Jason Scotland tore us apart... #hibees"
1310: Breaking off from Scottish Cup final fever for a second, former Hearts keeper Craig Gordon has been speaking about his future after being released by Sunderland.
"I've no idea. Things will happen over the summer and I'll take it from there," he said.
1307: Earlier, I asked for your favourite/most painful Hampden experiences.
Kilmarnock fan Martin Sneddon: "Killie losing 5-1 to Hibs in the League Cup Final in 2007. Still painful! Sorted it this season though. #bbcsportsound"
1305: The Ulster Hearts, fromBallymena inCounty Antrim, via 80295:"Wish we were at Hampden but will be watching from afar: come on the Jambos!"
1259: Kevin Kennedy: "A Jambo living in England, is there no way for me to watch the game live? About to have my day ruined! #bbcsportsound"
Hi Kev, if you've got satellite TV then you should be able to spool through and find BBC One Scotland. Unfortunately, we can't stream live pictures of the final on our website. Good luck!
1257: BBC Scotland's Clive Lindsay at Hampden: "Hearts scarves being sold on way to stadium say: 'Meerkat Maroons Simples'. T-shirt says 'Stay calm it's only Hibees'. Too much confidence?"
1255: Scotland captain Darren Fletcher at Hampden: "May the best team win"
1252: Ross Smith: "What a day for the fans regardless of the result. Let's hope there's more of this in the next few years"
1251: Hearts captain Marius Zaliukas: "It's probably the biggest game in the club's history. I wouldn't say that anyone is nervous, everyone is excited. Everyone is very confident.
"With this, the last three years [of unbeaten derbies] don't count. It's one day, a big day.
"Every derby game is like a little present for our fans and for the team and if we win it's the same."
1250: Hibernian captain James McPake: "It's a great honour to be walking out at Hampden and leading a team out for the Scottish Cup final and it's an even bigger honour that it's probably the biggest game in derby history.
"We go into it confident and looking forward to it. What an honour it would be for us to be the first [Hibs] team in 110 years to lift that cup.
"We've not beaten them in 10 derby games. I don't look took much into that. This is 90 minutes of football, or it could be more with extra-time.
"We'll go out and give it the best 90 minutes of our lives and hopefully that'll be enough at the end of the day."
1247: David Molloy: "Oh, I forgot to mention, I also work in Leith. I am not looking forward to 5:30 when I finish should Hibs win..."
Ouch!
1245:Mike the Arab, via 80295: "As a Dundee United fan I'll be supporting Hibs. Not because we used to be called dundee hibernian but because it will be another club to have won the Scottish Cup after Dundee in 1910. As we say in Dundee: 1910 never again."
1242: Radge21: "Vladimir Romanov dressed in a kilt today for the final. Give the team talk of your life King Vlad. And a big bonus offer."
Let's hope he doesn't stand over an air vent when he's delivering that team talk. We don't want a Marilyn Monroe moment...
1240: Chris Beattie: "I'll be nervous every time Hibs enter our half today, but my word what an occasion this is going to be! I'll be nervous every time Hibs enter our half today, but my word what an occasion this is going to be! #bbcsportsround"
1236: We've got a few Hibs and Hearts supporters in the office. They've proved fascinating viewing in the build up to the final. During conversations you realise that they're not concentrating 100% on what you're saying; they fidget nervously; making sporadic glances into the middle distance before sporting crushed or euphoric expressions.
Scottish Cup final day takes its toll on the nerves - especially when you're up against your fiercest rivals.
1233: Marc Bladen: "Watching in Turkey, Need a Hibs win to finally stop my mate Dave from moaning about his 60 years as a supporter and no Cup! #bbcsportsound"
1229: Sean: "Can only wish the best for the Hibees, and I'm sure most neutrals will be doing the same #bbcsportsound"
Dave Clements: "As a St Johnstone fan, I'm 100% behind Hearts today as it'll open the back door to Europe for us. #bbcsportsound"
1227: I'll bring you team news as soon as I have it. Until then, a quick question: what's your favourite/most painful Hampden memory?
Tweet me @bbcthomasmcg using the hashtag #bbcsportsound or text via 80295.
1224: Jim Drummond: "Hampden 26 April 1958: Hibs runaway favourites to beat Clyde but lost 1-0. Let's hope the favourites suffer the same fate today"
Craig Campbell: "The way #bbcsportsound has built today's #scottishcupfinal has been fantastic. I support Aberdeen and still feel excited for todays game."
1218: David Molloy: "I think I'm the only Jambo having to work today. #bbcsportsound will be my salvation. 2-1 win for the boys in maroon!"
That's a savage blow David! Stay with us throughout the afternoon and take your boss off the Christmas Card list.
1216: We understand that Hearts striker Craig Beattie, who was the hero in the semi-final victory over Celtic, will start on the bench today as he battles back from a troublesome hamstring.
Beattie, you will remember, embarked on a high-knees victory run towards the Hearts fans after making it 2-1 against Celtic, that appeared to fuse the sprinting talents of Forrest Gump and retired 400m record holder Michael Johnson. Great stuff!
1214: What would it feel like to score the winner at Hampden today? Hibs striker and boyhood fan Leigh Griffiths says it would be the pinnacle of his career.
"If I could score the winner or play any part in the winner it would be the proudest moment of my life.," said the 21-year-old who is on loan from Wolves.
1212:James Houston, from Bonnyrigg, using 80295: "As a Celtic fan from Edinburgh I'm branded a glory hunter by my Hibs and Hearts supporting mates despite going to home and away games the last 15 years. If there's ever an example of glory-hunting it's today. I've got more Hearts mates going today who haven't been there all season that's why I hope Hibs hammer them. Also fed up of them going on about 1902 so come on the cabbage."
1210: IainAGraham86: "I want Hibs to win as it would cheer them up after their difficult seson! #bbcsportsound"
1208: It's a refreshing change for the Scottish Cup final to be contested by Edinburgh's big two, with no Old Firm involvement.
I'm hoping we're going to be treated to a high-scoring encounter...
1206: Meanwhile, Hearts boss Paulo Sergio has been calmness personified in the build up to the Hampden showpiece.
"For me it's an opponent, it's a game that I want to win like all the others," he said.
"It's not special because it's Hibs."
1204: Hibs boss Pat Fenlon has urged his side to focus on winning this afternoon and free themselves fro the club's 110-year burden.
"We've just got to make sure that that's what we focus on and not all the other hype that goes with it," he said.
1202: Ian Bailey: "Is the Scottish Cup final available on the red button in England? #bbcsportsound"
I'm afraid not Ian, sorry. Stick with us, though, during the course of the afternoon!
1157: Edinburgh Tom: "Wearing grandpa's lucky green scarf, knitted by his Jambo aunt after 1902 triumph & worn at each Hibs final since. Hang on?!.. Hav burnt scarf - tell whole world hoodoo is lifted!"
1152: Hearts finished fifth in the SPL this season, while Hibs overcame Dunfermline in the relegation dogfight.
The sun is threatening to put in an appearance over Glasgow...
1150: Derek Christie: "Last time Hibs won the cup, air conditioning was invented. Who will keep their cool today? #BBCSportsound #jambos #Hearts"
1147: Alloa boss Paul Hartley "We're Heading to Hampden about 1.30pm and it will be a great atmosphere.
"You couldn't ask for a better final. It's a game you don't want to lose. It's the biggest game in the history of both clubs.
"You can be a hero or a villain today. I'm going to say Hearts to win 2-0: Skacel and Beattie"
1144: Paul Hartley, who played for both Edinburgh clubs but more notably for Hearts, has been speaking to BBC Sportsound anchor Richard Gordon.
Hartley says he's holed up with 700 nervous Jambos in a Glasgow hotel before heading to Hampden.
1141: Former Hearts star Scott Crabbe
"I've got family members and mates who are Hibs supporters and I would never ever grudge them seeing their team win the trophy - just not against us."
1139: Easter Road legend Keith Wright
"We've got a set of lads who could go on and be absolute legends. I don't know if they even know themselves how much it means to the supporters of Hibs to bring the cup home."
1137: Get in touch by tweeting me @bbcthomasmcg using the hashtag #bbcsportsound or text via 80295.
No more sleeps for either set of fans to endure: the big day is here and all roads lead to Hampden ahead of the 1500 BST kick off...
1134: Paulo Sergio's men are unbeaten in 10 games against their city rivals: the Jambos have won seven matches during their impressive run.
Hibs' last win against Hearts was in May 2009, when Derek Riordan's penalty earned victory at Tynecastle. Will the green half of Edinburgh be smiling later today?
1132: Baddiel and Skinner once sang about "30 years of hurt" but for Hibs supporters it's more like 110!
Hibs last won the Scottish Cup in 1902, courtesy of a 1-0 win over Celtic.
Thirteen Scottish Cup final appearances for Hibs since then and they've lost the lot: a statistic that must have celebrity fans The Proclaimers removing their glasses to rub their eyes in disbelief!
1130: Good morning and welcome to our live text coverage of the Scottish Cup final.
Edinburgh will grind to a halt as the Scottish capital turns its attention to Hampden for Hibs v Hearts and the first all-Edinburgh final since 1896.