West Ham promotion is a highlight of my career, says Sam Allardyce
Last updated on .From the section Football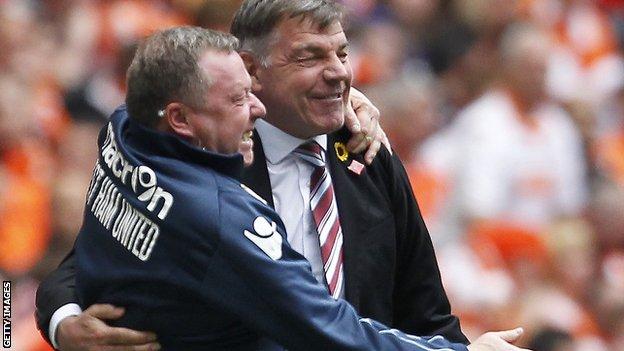 West Ham manager Sam Allardyce said winning promotion was one of the greatest achievements of his career.
The Hammers missed out on automatic promotion by two points while Allardyce was criticised over the playing style.
"It is great, right up there with the best for me because of the size of West Ham and the pressures," he said.
"You get critics everywhere, a small minority who make themselves heard at every club, but the vast majority have been behind the team.
"It would have been devastating, according to the owners who would have had to decimate the wage bill by £10m, off-load players for little or no fee and still achieve what fans want."
Allardyce admitted he was thrilled to be back in the Premier League where he has spent more than a decade as the manager of Bolton, Newcastle and Blackburn.
"I'm just delighted to be back in the Premier League. It means everything to me," he said.
"I had been in the Premier League for 10 years or so. It was difficult at the start to turn this club around but we have come good at the end.
"I'll look forward to the celebrations first before I start worrying about the Premier League next year."
Carlton Cole, who scored the opening goal, said he was delighted to be back in the Premier League after opting to stay at Upton Park following last season's relegation.
"I feel elated, I'm so proud to be a Hammer, it's brilliant," he said.
"I felt so dejected at the end of the season last year this is a great feeling just to go back up.
"Although we didn't win the league but this is another way to show we can still compete at the top level.
"To make the decision I did at the start of the season and stay with West Ham and to be a Premier League player with West Ham is the best feeling in the world."
Captain Kevin Nolan said he can now enjoy the summer after helping to secure a return to the Premier League.
"The work we've put throughout the season since day one has been fantastic," he said.
"This is the first step, it's about now, going and enjoying our summer and looking forward to being a Premier League player again."