Swansea boss Brendan Rodgers has big future says John Hartson
Last updated on .From the section Football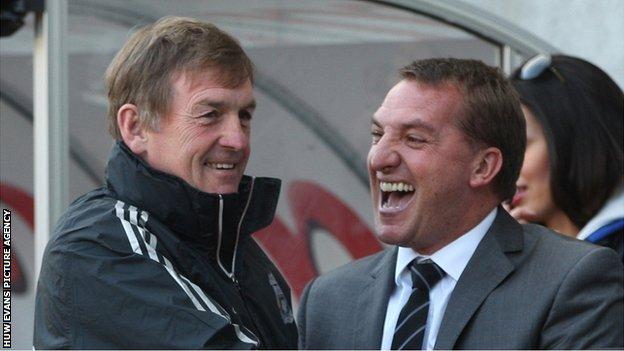 Former Wales striker John Hartson believes it is only a matter of time before Swansea boss Brendan Rodgers manages a major Premier League club.
"It's brilliant Brendan turned down the chance to even speak to Liverpool, who are a massive club," said Hartson.
"I would love to see Brendan Rodgers go to Liverpool, but not quite yet."
Dalglish was sacked as Liverpool manager on Wednesday, leaving the club looking for a fourth boss in two years.
Rodgers was reportedly on the Reds' shortlist after guiding Swansea to 11th place in their first season in the Premier League and earning many plaudits for his team's style of play.
But the Northern Irishman rebuffed the opportunity to talk with Liverpool to stay with the club where he has been in charge for two years.
Hartson is realistic about Swansea's chances of keeping hold of their talented young manager if the 39-year-old's stock continues to rise.
"Three or four years, two or three even, Brendan will move on because he's a very ambitious young manager, he will manage at a big, big club," Hartson admitted.
"Maybe one day he may well have another opportunity to go to Liverpool, or other clubs of that stature.
"But at the moment I think it's brilliant, he's committed to Swansea. Swansea gave Brendan his opportunity when he didn't have a great time at Reading and Watford.
"He's done brilliant for us as a club but we've also been very good to him and it's great that he's shown a little bit of loyalty, and I'm sure the fans are absolutely delighted with the news.
"Swansea's not a big place and where he's taken us as a football club has been extraordinary in the last two years, it's been some ride.
"To take us up from the Championship - many managers have tried - and to play like we did this season in the Premier League was an absolute joy to watch at times, and he takes a lot of credit for that.
"It's great, it's refreshing that he's committed and the fans will love him even more than they do now."