Famous five wins final for Hearts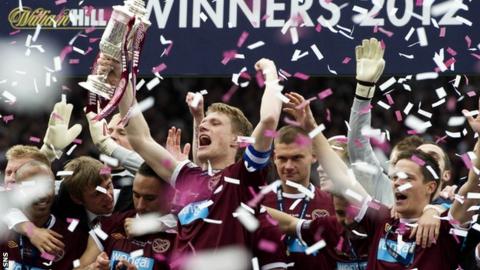 Hibernian went into the Scottish Cup final hoping to make history and surpass the achievements of the club's greatest sides. Hearts emerged victorious in the first all-Edinburgh final for 116 years thanks to their own Famous Five.
A kind of symmetry had been assured no matter which side of the capital city divide lifted the world's oldest football trophy after what was billed as the "Salt N Sauce Final" in reference to the east coast preference in fish and chips accompaniment.
Hibs had once again travelled to Hampden Park, this time occupying the same chocablock stretch of M8 as their opponents, looking to rid their backs of the hefty monkey created by not having lifted the Cup since 1902.
Many of their fans firmly believed that their bad luck must surely have ended with their 13th consecutive Scottish Cup final defeat - and that all the signs pointed to the trophy returning to Easter Road.
In 1902, they had been led to victory over Celtic by one Dan McMichael. In 2012, they are managed by another Dubliner, Pat Fenlon.
If Fenlon's side prevailed, it would complete a clean sweep of Scotland's trophies for managers from across the Irish Sea - Neil Lennon's Celtic having been crowned league champions and Kenny Shiels's Kilmarnock beating the Glasgow side in the Scottish Communities League Cup final.
Hibs fans even pointed to the sum 1+9+0+2=12 and never having lost on 19 May as being signs that victory was written in the stars.
In the celebrity stakes, the Easter Road side certainly won the pre-match battle of words hands down, the hefty presence of First Minister Alex Salmond aside.
Popsters The Proclaimers, author Irvine Welsh, film star Dougray Scott and tennis brothers Andy and Jamie Murray were just some of those to speak of their green and white allegiance, while Ryder Cup winning golfer Bernard Gallacher was among those to take their seat in the stand.
The problem for those and the more common-law Hibees faithful was that the present side is devoid of such star quality.
Their rag bag of loanees, journeymen and battle-weary academy graduates narrowly avoided relegation largely thanks to the poverty of Dunfermline Athletic's ambition and bank balance.
If the open-top victory bus was to head east from the city chambers on its way to Leith the following day instead of west towards Tynecastle, Hibs would have to end a run of 10 games without a derby win, including three consecutive defeats this season.
They would need their only top-quality player, one-time Scotland striker Garry O'Connor, to shine and their fragile defence to hold firm.
Neither was to come to pass, with the bombscare that is Pa Kujabi giving Hearts early relief from a heavy burden that bred much pre-match fear of conceding a lifetime of bragging rights in Edinburgh.
The Gambian left-back was like a tortoise off the goalline to leave Darren Barr onside at the opening goal, was booked for a late challenge on Suso then was sent off after conceding a penalty shortly after the break.
Kujabi's pull at Suso's jersey was well outside the penalty box, but that was no solace for the Hibs fans as they witnessed Danny Grainger's penalty thunder into the corner of the net to give Hearts a 3-1 lead after 48 minutes.
That signalled an exodus of Hibs fans - some had even headed for the exits after Rudi Skacel had made it 2-0 - and that became a deluge as the Hearts fans sang along while the tonnoy blared out "Give It Up" after Ryan McGowan added another two minutes later.
Among them was Wolves man Steven Fletcher. Sadly, it is not the first Hampden Park occasion the Scotland rebel has turned his back on recently, but even his undoubted striking talents could not have rescued his former team now.
With the misfiring O'Connor sacrificed, one side of the stadium virtually empty, the other a sea of maroon celebration, Hearts toyed with the 10 men until Skacel added his second of the game to secure the sponsor's man of the match.
It could be a fitting epitaph to Czech midfielder's Tynecastle career, Skacel being out of contract and unlikely to be offered a new one along with Ian Black, the man who really pulled the strings in Hearts midfield with a performance of class and maturity.
The Hibs of 2012 were just not worthy of surpassing the achievements of the likes of the Famous Five forward line that won the league title in 1948, 51 and 52 but failed to lift the Scottish Cup.
As the sun set for the hopes of the team from Leith, once more there was to be no "Glory, Glory to the Hibees" to accompany the presentation.
Indeed, some fans of St Johnstone, who will now play in the Europa League as a result, would no doubt have joined in with a few verses of "Hearts, Hearts, Glorious Hearts".
In 1896, Hearts beat Hibs 3-1 in what was an Olympic year, when Romanov was in power (in Russia not, as now, at Tynecastle), as Edinburgh's tram system was in the middle of rebuilding and as at least one club in Glasgow was under investigation from the tax authorities.
Maybe it was Hearts' victory that was written in the stars as we were spared the promised spectacle of O'Connor streaking down Princes Street had Hibs ended their lengthening wait for Scottish Cup glory.