Euro 2012: Phil Neville 'excited' by Roy Hodgson's new England era
Last updated on .From the section Euro 2012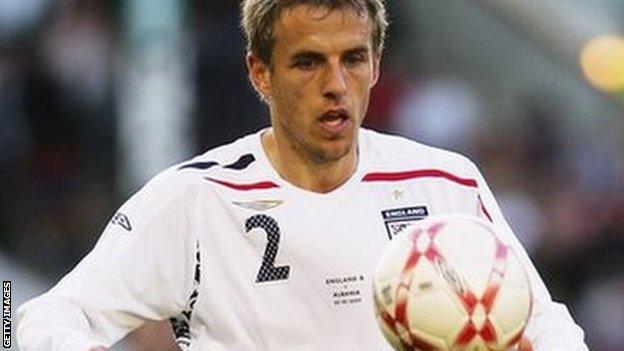 Phil Neville believes there is plenty of cause for excitement about the "new era" Roy Hodgson is ushering in at this summer's European Championship.
Neville, whose brother Gary has an England coaching role, also feels the decision to omit Rio Ferdinand from the squad is the right one.
"There's a new era coming in now and I'm very positive and very excited," the Everton midfielder told Sportsweek.
"The appointment of Roy Hodgson is very clever and a very positive one."
As well as citing the appointment of Hodgson as a cause for excitement, Neville also anticipates good things from a squad in which the emphasis is on emerging talent.
Strikers Danny Welbeck and Andy Carroll have just seven caps between them, while 18-year-old Alex Oxlade-Chamberlain is yet to play a game for the senior side.
"There's always expectation when you go to a major tournament with England but I think that's been dampened by the charge of manager," he said.
"I think there's more of a feel good factor going into the tournament than there would have been if Fabio Capello was still involved.
"I am excited about the young players that are travelling.
"We've got energy in the team, we've got players who haven't suffered from tournament disappointment, and that's a good point."
One of Hodgson's biggest decisions concerned the roles of experienced central-defensive duo of Ferdinand and John Terry, with the Chelsea man getting the nod.
Neville felt that was the right call because it will provide the younger defenders in the squad - who will comprise the core of the group in years to come - with vital tournament experience.
"It was probably one of the biggest decisions Roy had to make but I think you have to start blooding some of the younger players and it is the right decision," he said.
"In [Joleon] Lescott, [Gary] Cahill and [Phil] Jones, you've got maybe three defenders that are going to be in the next major championships and the two after that.
"It was a tough decision but to take both of them, in terms of looking forward to the next tournament, would have been the wrong decision.
"It was a toss-up between them and I think what is in John Terry's favour is that he has been a regular for England in the past year and Rio hasn't played for England for a while."