Dave King makes claim over Craig Whyte's Rangers shares

By Alasdair Lamont
BBC Scotland
Last updated on .From the section Football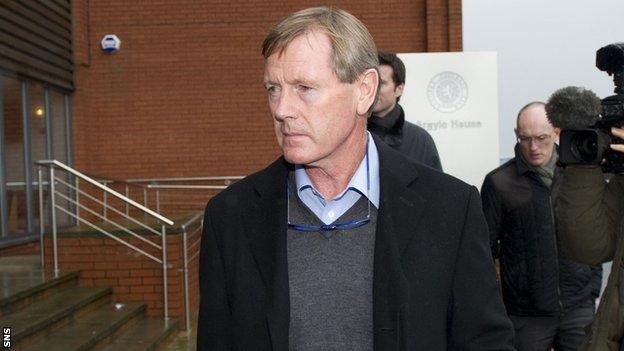 Rangers director Dave King has told BBC Scotland he has first option on Craig Whyte's shares in the club.
Prospective owner Charles Green has stated that he has an irrevocable deal with Whyte for the transfer of his 85% shareholding in Rangers.
But King says he and Whyte agreed last year he would have first refusal on the shares "at whatever price anyone offers and Whyte is willing to accept".
Whyte told BBC Scotland King's assertion was categorically untrue.
King claims to have come to an agreement with Whyte in Glasgow on 29 September last year and, when told of Whyte's denial, he added: "It was verbally agreed over lunch but is legally valid.
"It suited him at the time and I will hold him to it.
"I have first option on [his] shares and would not forgo this unless I was absolutely certain that any proposed transaction, that excluded me, was in the best interests of the club," he added.
"I have yet to see such a proposal."
King, who is Rangers' second largest shareholder, continued: "I stayed on because I also had my investment and those of the other minority shareholders to protect and I believe that my presence on the board prevented Whyte from getting away with more than he even did.
"The ultimate problem was that he knowingly lied to me and blocked my ability to validate some of his contentions with the club's financial controller.
"I believed that the financial controller had a fiduciary obligation to supply me with information even though it transpired that Whyte had told him not to.
"I was also alert to the fact that Whyte would run out of time and felt that it was better that at least one independent director would be there to protect the interests of the minority shareholders and the fans.
"If I had resigned Whyte would have had carte blanche. The minorities, in my firm view, were defrauded in the initial transaction by Whyte and I intend to seek recourse in that regard once I have access to the Duff & Phelps investigation of the company's affairs."
But when King's comments were put to Whyte on Sunday, he described them as "highly misleading".
"The minority shareholders were no worse off as a result of the initial transaction as one debt simply replaced another," he added.
"Lloyds would likely have put the club into administration last summer if the transaction hadn't happened.
"If the CVA is successful the minority shareholders will retain their shares in a club that will be a debt-free sustainable business and not the basket case that I inherited as a result of the mismanagement of the previous board."
King was one of the club directors identified in the Scottish Football Association's recent Note of Reasons for Rangers' transfer embargo.
He and his former fellow directors were criticised for not doing enough to highlight the non-payment of VAT and PAYE.
On that, King said: "The criticism of me is fair, but John Greig and John McClelland deserve the utmost praise for hanging around as long as they did in the hope that they could somehow make a contribution.
"It was only once they had become completely isolated that they resigned in the hope that this would be a catalyst for greater scrutiny of Whyte's actions.
"I know how gutted they both were - they are unsung heroes to my mind and all Rangers fans should know that they put the club first at all times."