Unhappy Fernando Torres considers his Chelsea future
Last updated on .From the section Football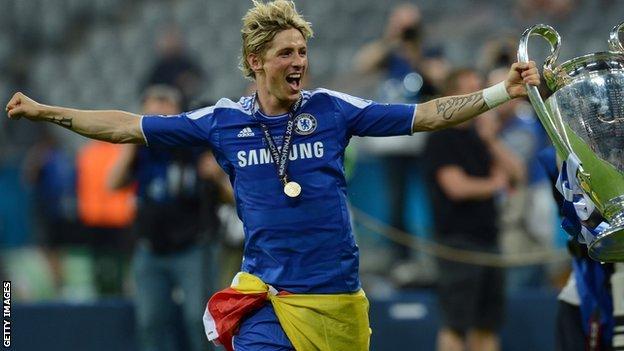 Chelsea striker Fernando Torres will hold talks with the club about his future after criticising the way he has been treated.
Torres told Spanish journalist Guillem Balague: "I have been through the worst moments of my career during the season.
"I felt they have treated me in a way I was not expecting."
The Spain striker, signed from Liverpool for £50m in January 2011, has hit six league goals this season as part of a total of 11 in all competitions.
In the interview, also published in Spanish in Diario AS, Torres added: "It's contradictory because I feel like I'm at a peak moment in my career, with more desire and hunger than I've felt in a long time, but I've had to spend the final on the bench.
"It was a huge disappointment when I saw the line-up, perhaps the biggest disappointment in my life. I thought I would play in this game and I couldn't imagine not doing so."
Discussing his future, he added: "We've had a lot of talks and we'll talk about my future at the end of the season because the role I've had this season is not for me, nor is it the one I expected to play when I came here.
"I'm not comfortable. A victory like this one against Munich does compensate, but I want them to tell me what is going to happen in the future.
"Now I do feel like football is worth it but I've been through a difficult time. The worst in my career. And I don't want to go through it again."
Chelsea plan to open talks with fellow striker Didier Drogba's representatives later this week to work out the chances of him staying.
The club have refused to offer the two-year contract Drogba was looking for.