Jersey's Michael Weir ready for Cypriot challenge
Last updated on .From the section Football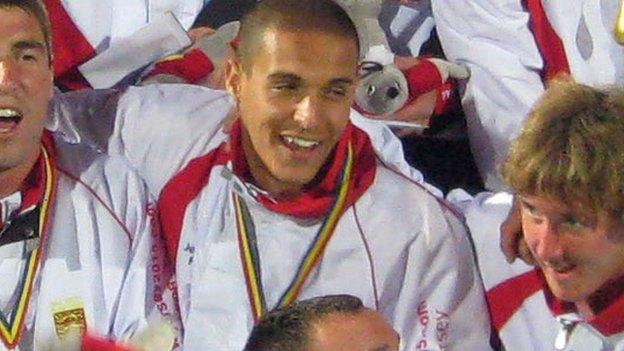 Jersey footballer Michael Weir says he is aiming to break into the first team for his new club in Cyprus.
The 21-year-old defender has joined newly-promoted Cypriot top flight side Doxa Katokopias after leaving Portuguese side CD Nacional.
"I've been signed to go into their first team and I'll go straight into pre-season, work my socks off and make my way into the team as quick as I can.
"If it doesn't come soon I'll keep working and wait for my opportunity."
Weir has had a nomadic quest to try and establish himself in professional football after failing to make the grade in England.
He started out as a scholar at Southampton aged 14, but was deemed not physically strong enough for the rigours of English football and left the club two years later.
Rather than try and find another club in the UK the tall and thin schoolboy took a rather different route, going to Madeira-based Nacional, who play in Portugal's top flight, for a trial.
He was invited to join their youth set-up and quickly had to adapt to a new language and culture.
Weir signed a two-year professional deal at Nacional last summer, but did not make a first team appearance for the club where Cristiano Ronaldo began his career
Weir spent most of last season on loan at Nacional's island neighbours Camacha who play in the Portuguese second division and he says his time in Portugal has helped him improve as a player.
"Going out there for four years both physically and mentally I've learned a lot," Weir told BBC Radio Jersey.
"Everything's done with the ball.
"The time you do with the ball is a lot more than you have in England, you work on how you keep the ball and stuff like that, it's the main thing."
Doxa have just returned to the Cypriot top flight after being promoted at the end of last season.
Weir sees the move as a chance for him to resurrect his dreams of top-flight football after leaving Nacional.
"They've been in their first division for most of the past 10 years so it's really exciting and a big opportunity for me.
"It's not just about the football side, it's a new place, a new island in Cyprus.
"I went there last week, enjoyed everything I saw and I'm really optimistic about it."