York City celebrate Football League return
Last updated on .From the section Football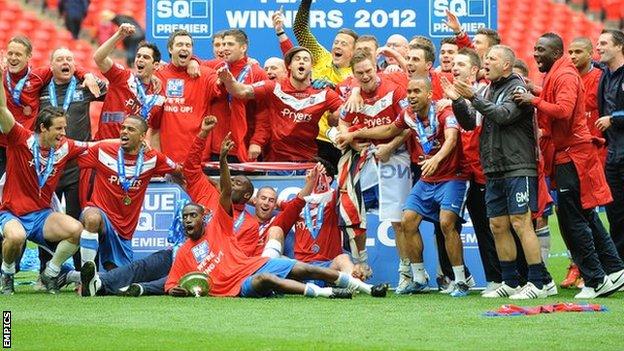 York City players and management have been celebrating their return to the Football League.
Midfielder Danny Parslow told BBC Radio York: "It's the highlight of my career by a long way. I can't describe it."
Goalkeeper Mike Ingham added: "I broke down in tears a minute before full-time because I knew we were going to do it. Everyone here deserves this."
He continued: "It's something I never thought would happen to me again, it's different class. It's a great day.
"I've just played my normal game today and I can't tell you how it feels. This is a great club and it should be playing in the Football League."
Manager Gary Mills, who also guided the club to the FA Trophy against Newport last week, echoed the feelings of his players.
A former European Cup winner during his time playing for Nottingham Forest, Mills said he was finding it hard to control his emotions.
"We're a Football League club, how fantastic does that sound?" he told BBC Radio York.
"I'm holding back tears to be honest. This is for everybody here today and everybody who couldn't make it too.
"To go a goal behind and keep doing what we do best, keep playing our passing game, the lads were so brave."
An open-top bus parade through York city centre is planned for Monday at 18:00 BST to mark the club's achievement.