Businessman Kevin Ingram competes Corby Town takeover
Last updated on .From the section Football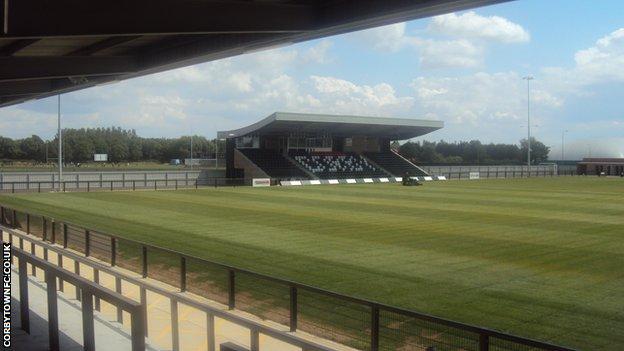 Blue Square Bet North club Corby Town has been taken over by Leicestershire-based businessman Kevin Ingram.
Former acting chairman David Mallinger and his deputy Graham Starmer have accepted roles on the board.
"Corby Town is going to be a club people will want to be associated with and one other clubs will look at with envy," said Ingram.
"What this club needs is financial stability. We have to bring an end to the volatility of recent years."
He continued: "There is a lot of hard work to be done but I am confident we have the right people to help develop a club we can all be proud of."
Since the death of former owner and chairman Peter Mallinger last year, the team have moved into a new ground, Steel Park, but only finished 17th in the Conference North after the playing budget was reduced.
Ingram has now assumed the role of chairman and invited several new directors to join the current board.
"Due to the complexity of the deal it has taken a while to get to this point but things are really beginning to take shape now and I am very excited," he said.
"I am looking forward to working closely with new [Corby] Borough Council CEO Norman Stronach and his team, as well as the newly formed Supporters Trust. They all have significant roles to play too.
"It is my ambition to build a highly motivated football team who will become ambassadors for the area and wear the shirt with pride. We will do this in a sustainable and progressive manner."
The Corby Town Supporters Trust was formed after 66 Steelmen fans registered their details at a meeting in late April.
A statement from the Trust said: "Every supporter of the Steelmen wants a club that we can be proud of both on and off the pitch, and it sounds as if Mr Ingram has the same vision."
Meanwhile, a new manager is set to be unveiled shortly, following the departure of Graham Drury in May.
"I have been involved in the recruitment process throughout and, as things stand, I hope to be in a position to make an appointment next week," said Ingram.