Grant Holt and Norwich City set for talks over dispute
Last updated on .From the section Football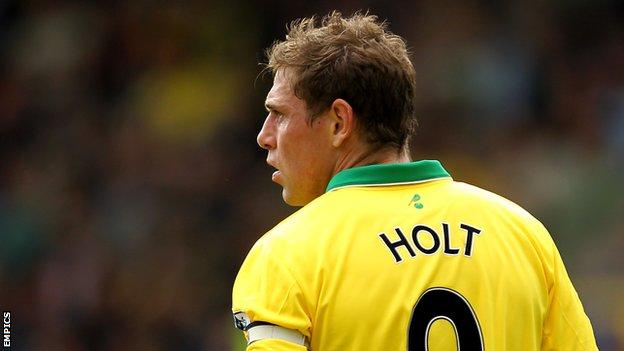 Grant Holt will hold talks with Norwich City on Monday in an attempt to resolve his dispute with the club.
Holt's agent Lee Payne told BBC Radio Norfolk that the striker following a number of disagreements with the Canaries.
"If they ever come out in the wash, I'm sure everybody will understand why he did what he did," said Payne.
Norwich rejected the transfer request from their 31-year-old top goalscorer on Friday.
The club's chief executive, David McNally, denied there was any rift with the player in a post on Twitter on Saturday.
"We have not had an argument or row with any player including Grant," he said.
But he will nevertheless meet Holt at 16:00 BST on Monday and Payne is hopeful that matters can be resolved.
"It's been a difficult few days really. It's not a decision Grant's made overnight. It's something that's been ongoing for a little while now," he said.
"He loves the club. He loves the fans. I think the fans love him. He's had a tremendous three years and he just feels it was a decision he had no other choice to make at this stage.
"It's a decision he felt he had to make and I'm standing with him 100% on it. There have been some things that have gone that we felt were not right.
"That's what we're going to resolve with David McNally."
Holt surprised Canaries fans with his decision to ask for a transfer, following three year consecutive seasons of finishing as the Carrow Road side's top scorer.
He netted 17 times in the most recent campaign, 15 of which were scored in the Premier League.
Payne, a former Newcastle United winger, added: "Why would he not want to stay? His family is here. He's had a fantastic time at the club.
"But things have to be done correctly and professionally and Grant feels over the last couple of months some comments have been made and things have been said that are very unfair.
"It's not about money. It's not all about money. Obviously money comes into the scenario - it always does.
"Players like to feel like they're being valued and being respected. There's a couple of issues Grant's not happy with and feels they need resolving."