Huddersfield Town: Andy Booth reflects on 'fast food' final
Last updated on .From the section Football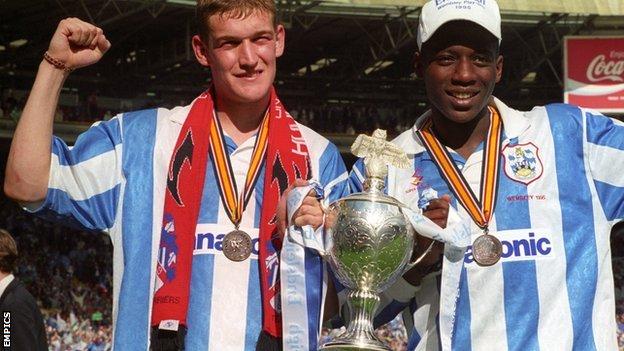 Huddersfield Town's last Wembley win was fuelled by "crisps, pop and fast food", according to Terriers legend Andy Booth.
The Terriers take on Yorkshire rivals Sheffield United on Saturday in the League One play-off final and Booth, who scored Town's opening goal in a 2-1 win over Bristol Rovers in the then-Division Two play-off final in 1995, acknowledged the present-day side will approach the game in a much more professional manner.
"There's no doubt that they're more disciplined than we were," he told BBC Radio Leeds.
"It's moved on. We'd have gone on the coach and we'd have had pop and crisps and we probably stopped off at the services on the way there and had some fast food for our pre-match meal.
"Before the game Simon (Grayson) will call a meeting and they'll look at DVDs, how Sheffield United do their set-pieces and the way they play. In my day I was just told to pick up the opposition's centre-half and we'd just hope everything would be OK.
"You would not believe how the game has come on."
The Huddersfield-born striker was 21 when he helped the Terriers to promotion to the second tier.
Now working as a club ambassador, the one-time England Under-21 striker and scorer of 134 league goals in two stints with Town, has clear memories of the game.
"You just focus on the match. You have 90 minutes to get promotion," he added.
"We started well and we got the goal we deserved. I remember when I headed it thinking 'you idiot, you've headed it over'.
"Fortunately for me it dropped just under the crossbar. The lead didn't last though because Marcus Stewart levelled straight afterwards and that took the edge off it.
"Neil Warnock did a great job with us at half-time. He normally gave us a rocket if we weren't in front but he just picked us all up. He just spent the whole time encouraging us.
"When Chris Billy grabbed the winner with a header, he was a player who didn't like heading the ball, that shows what Wembley does to you. They're memories no one can take from you. It means the world to me."
Booth, who also helped Town to promotion through the play-offs in 2004, is confident that his modern-day counterparts have what it takes to beat the Blades on Saturday.
"Everywhere I go people ask me the same question, 'are we going to win on Saturday?' and I keep giving them the same answer, 'yes we are'," he continued.
"We've got to be positive and we've got to be full of confidence. I think losing last year will stand them in good stead. They won't want that feeling again and neither do we.
"I think last year we were a little bit too confident that we were going to beat Peterborough but I think this year we're more level-headed and I'm quietly confident that we've got the best squad."
Captain in 1995, Lee Sinnott, is keen for current Town skipper Peter Clarke to emulate his feat on Saturday.
Town boss that day, Neil Warnock, has predicted a Huddersfield win but Sinnott, now in charge of Blue Square Bet North side Altrincham, would not be drawn on who he thought would win the final.
"I don't want to be the last Huddersfield captain to lift a trophy at Wembley anymore. It's time someone else did it," he told BBC Radio Leeds.
"I'm not sure who the favourite is. It's a close one to call. It could go either way.
"The important thing for Huddersfield is to not focus too much on Sheffield United and just concentrate on their own game. It sounds simplistic but the main thing is just to win the game."
Booth and Sinnott are hoping for their present-day counterparts to repeat their Wembley success but, 17 years on, it is unlikely the pre-match menu will be quite the same as in 1995.
Andy Booth was talking to BBC Radio Leeds's Huddersfield Town reporter Paul Ogden and Lee Sinnott was talking to BBC Radio Leeds sports reporter Nick Hatton.
You can hear a one-hour special previewing the Huddersfield Town v Sheffield United League One play-off final on BBC Radio Leeds 92.4 fm or BBC Radio Sheffield 104.1 fm from 18:00-19:00 BST on Thursday, 24 May. Alternatively, you can listen online on the BBC Radio Leeds iplayer or the BBC Radio Sheffield iplayer.