English exodus good for Scotland, says Robert Snodgrass
Last updated on .From the section Football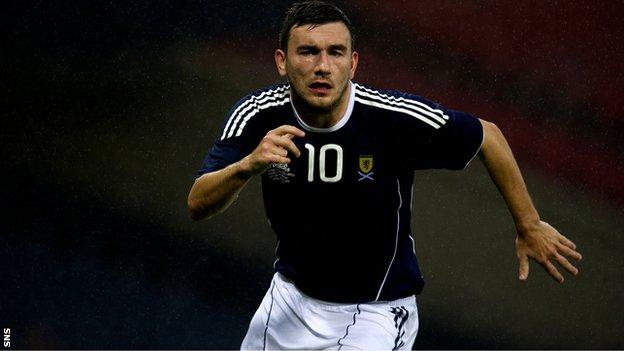 Robert Snodgrass believes the exodus of players to England will benefit Scotland coach Craig Levein.
"It's good for the nation that these players are going down there and improving their game," said the 24-year-old Leeds United captain.
"The fans in Scotland want to see them, but they will get to see them in the national side when they are terrorising nations all over the place.
"This is what we want to see at Hampden. This is what we want back."
Of the 22 players selected by Levein for next weekend's friendly with the United States, 15 ply their trade in the English leagues.
But midfielder Snodgrass will miss the match in Jacksonville as he works on strengthening his problematic back.
"There is great talent coming through in Scotland," he said.
"Any lad will tell you, they want to try to play at the highest possible level.
"In every window, players are going down there and they want to get down there because that's where the big jackpot is, the Premier League, and everybody is trying to get into it.
"You see the talent that is in the Premier League and even in the Championship - some of the boys at West Ham were on £50,000 a week in the Championship.
"So these lads, for their careers and chances to get into the national side, would want to try to get down there and do as well as they possibly can."
The former Livingston player is open about his own Premier League ambitions, but whether or not they are realised at Leeds remains to be seen.
Snodgrass, who was subject of a bid by Norwich City in January, is mulling over the offer of an extension to his contract, which has 12 months to run.
"I have another year left and they have offered me another contract and my agent is still speaking with them," he revealed.
"I said that I wanted to take a few weeks away from everything, not make any decisions and we will start speaking in June.
"The decision doesn't need to be made right now.
"Being captain of Leeds United in the Premier League would be a dream come true.
"If anyone would have said that when I went down there as a 20-year-old, I wouldn't have believed them, I don't think anyone would have.
"But I am living in the real world. We didn't get there.
"If things change in terms of bringing players in and getting Premier League class and kicking-on then it's a no-brainer. You sign the contract and move on."