Newco Rangers could avoid sanctions from SPL

By Alasdair Lamont
BBC Scotland
Last updated on .From the section Football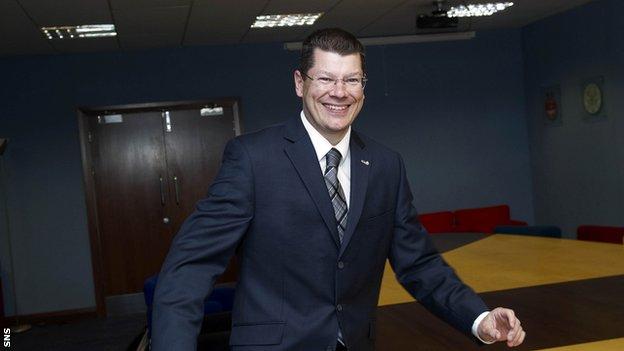 Rangers could start next season as a new company in the Scottish Premier League without incurring any sanctions - such as a points deduction or fine.
A vote will take place next week to decide what should happen to clubs that come out of administration in this way as "a new company".
Fans of other clubs have been demanding tough sanctions.
But SPL chief executive Neil Doncaster said: "Newcos have been allowed within UK football for many years."
Rangers hope to exit administration via a Company Voluntary Arrangement under the consortium led by Charles Green.
But the former Sheffield United chief executive and his group may seek a "newco" route if such a proposal is rejected by creditors.
"There is certainly a distinction between a CVA and a newco, without any doubt," Doncaster told BBC Scotland.
"But Newco is typically the way businesses in general escape from administration. It's far more common than a CVA.
"So I am not entirely sure why a distinction is made between the two routes out of administration.
"You achieve a sporting advantage over other clubs by going into administration, therefore you should receive a sporting penalty for going into administration in the first place. That seems to me to be entirely logical."
By definition, though, creditors must agree for a CVA to be successful, whereas a newco gives them no say.
SPL clubs will meet at Hampden Park on 30 May to debate new financial fair play rules, having twice delayed voting on the proposals.
Among the proposals on the table to deal with a newco are 10-point deductions over two seasons and 75% reductions in SPL revenue over three seasons.
A minimum of eight clubs must vote in favour of the point deductions for that resolution to be carried, while 11 votes are required for the imposition of the financial penalty.
If approved, the rule changes will take effect immediately but will not be retrospective.