Torquay United offer deals to Mark Ellis and Walsall's Ryan Jarvis
Last updated on .From the section Football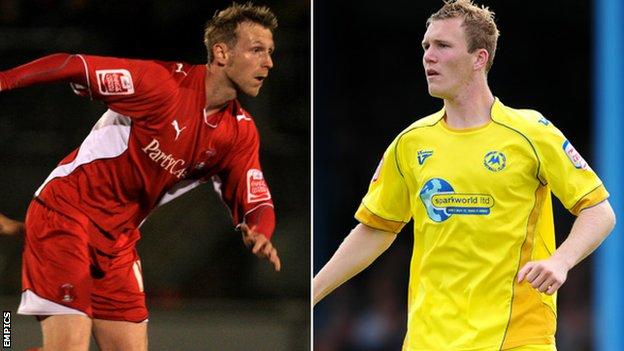 Torquay United manager Martin Ling has offered on-loan striker Ryan Jarvis and defender Mark Ellis new deals.
Highly-rated centre-back Ellis, 23, has four weeks to decide if he wants to stay at Plainmoor or leave the club.
Ellis has been mulling over a new deal for the past couple of months, and would command a fee if he left as he is under 24-years-old.
Jarvis, 25, arrived at Plainmoor in March and his deal with parent club Walsall expires this summer.
Meanwhile talks about striker Taiwo Atieno's future at the League Two club have been postponed.
The 26-year-old, who has scored seven goals since moving to Plainmoor on a one-year deal last summer, is away on international duty with Kenya.
Torquay have also offered 20-year-old forward Ashley Yeoman a new one-year deal.
Ellis, who joined Torquay in July 2008, has played every game since forcing his way into the side in October and scored three goals in 40 appearances.
Ling says he would like to keep Ellis if at all possible, but cannot afford to up the offer he was given earlier this year.
"We've laid ourselves open in terms of finances and gone as far as we can.
"He has had plenty of time to answer and we feel we've put our best offer on the table.
"I am desperate for Mark to stay but if there is other clubs out there and he chooses to move on, we will have to deal with that," Ling added.
Jarvis, who began his career at Norwich before working with Ling at Leyton Orient, has scored twice for the Gulls this season.
He started up front in place of the injured Rene Howe in their League Two play-off second leg loss to Cheltenham Town last week, and earlier this year Ling said he would is the summer.
"He has come in at a difficult time and I don't feel we have seen a fully-fit Ryan Jarvis as yet," said Ling.
"We have rarely got 90 minutes out of him but he has done enough to earn a contract, and going back to what I know about him previously, there is more to come.
"Everything we have seen in training and on the pitch, as well as all the coaches that I've spoken to, has all been positive on Ryan."