Huddersfield v Sheffield United: Neil Warnock tips Town
Last updated on .From the section Football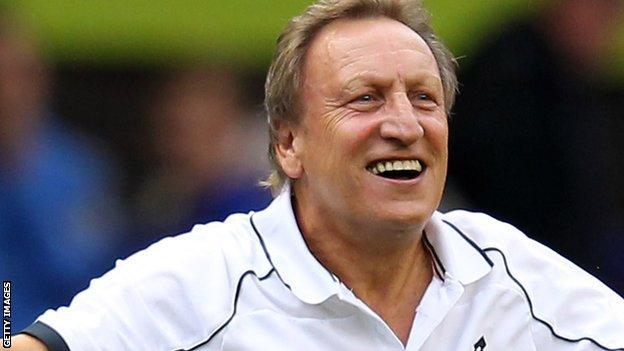 Neil Warnock believes Jordan Rhodes has the potential to be the difference between Huddersfield Town and Sheffield United in the League One play-off final on Saturday.
The Leeds United boss, who managed Town to promotion in 1995 and took the Blades up to the Premier League in 2006, should know a thing or two about play-off finals, having won four of them.
And he believes the 40-goal Scotland international can be the match-winner on the big occasion.
"This is Huddersfield's big opportunity I think and I'd say they were slight favourites because of Jordan," he told BBC Radio Sheffield.
"I think both teams are very solid, capable at the back, good in midfield and not bad on the flanks but he gives them something else.
"If you've got a lad like him in the team you can be under the cosh and playing poorly but be 1-0 up. That's when you win games.
"But having said that, on these one-off occasions there's always going to be a hero and it could be anyone. Who's to say Nick Montgomery won't pop up and grab the winner for Sheffield United?"
Warnock enjoyed a successful two-year stint with the Terriers between 1993 and 1995, taking them to the Football League Trophy final in 1994 and leading them to promotion to the second tier the following year.
A boyhood Blade, he spent seven and a half years as United boss between 1999 and 2007. Having twice failed to take the Bramall Lane side up to the Premier League through the play-off system, he finally achieved his goal in 2006 when they finished second to Reading.
Now in charge of Yorkshire rivals Leeds, he admits while his head might say Huddersfield, his heart is saying Sheffield United.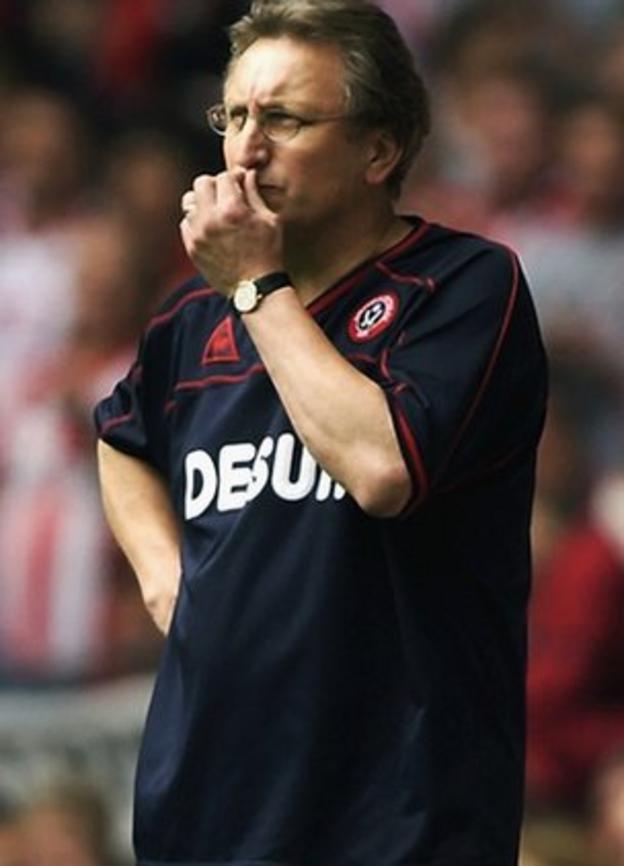 "I can't really win and I can't really lose. Whoever wins I'll be delighted for and whoever loses I'll be gutted for," he continued.
"I had a fabulous time at Huddersfield and I think they are slightly stronger but my heart will always be a Blade.
"I feel for [Sheffield United boss] Danny Wilson because they lost Ched Evans and he had no chance to bring a replacement in.
"They've had some blows of late but I was very impressed with how they played against Stevenage. I thought they re-grouped and they were outstanding, especially down there."
It is 17 years now since goals from Andy Booth and Chris Billy gave his Town side a 2-1 win at Wembley to earn promotion from the third tier.
But the former QPR boss admitted it was a day that put his managerial abilities to the test.
"It was probably the most difficult half-time team talk in my career in that final against Bristol Rovers," he added.
"We battered them and got a goal just before the break but they came straight down our end and scored.
"I had to collect my thoughts and try to motivate them because the players couldn't believe what had happened to them. I'd never seen a dressing room look so flat.
"We weathered the storm after the interval and I made a good substitution, taking off Gary Crosby for Ian Dunn, and with his first cross Chris Billy scored the winner. The celebrations were fantastic afterwards."
In contrast to his happy memories of the national stadium with Town, Warnock has altogether less fond recollections of his play-off final with the Blades, when his United side lost 3-0 to Dave Jones's Wolves at Cardiff's Millenium Stadium in 2003 to miss out on promotion to the Premier League.
"The only time I've lost a play-off is when they made us go across the border to Wales and it never felt right from the start there.
"Even then, we went 3-0 down and Michael Brown missed a penalty and I think if he'd have scored we'd have had them on the ropes.
"After we lost we stayed the night at the hotel, which was a disaster really. It hurts so much you just want to go home and close the curtains.
"It was like a wake. I just had a horrible, sickly feeling and I don't think anyone wanted to be there. So whoever loses, I don't envy that feeling."
Warnock is hoping it is Simon Grayson left with that same horrible feeling after Saturday's showdown while Wilson, twice a play-off final losing manager, can look forward to an away day at Elland Road in 2012/13.
Neil Warnock was talking to BBC Radio Sheffield's sports editor Paul Walker.
You can hear a one-hour special previewing the Huddersfield Town v Sheffield United League One play-off final on BBC Radio Leeds 92.4 fm and BBC Radio Sheffield 104.1 fm from 18:00 - 19:00 BST on Thursday, 24 May. Alternatively, you can listen online on the BBC Radio Leeds iplayer or the BBC Radio Sheffield iplayer.