Confident Crewe have no fear, says manager Steve Davis
Last updated on .From the section Football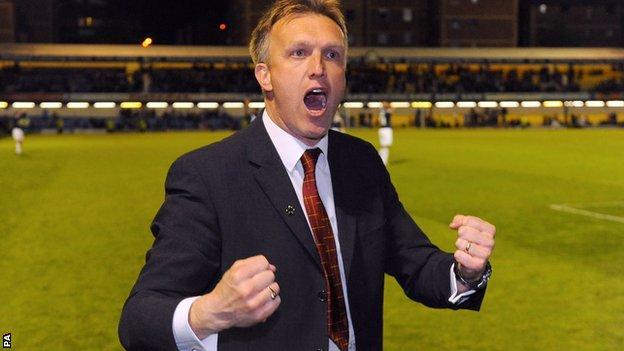 Crewe manager Steve Davis insists his confident side "don't fear anybody" ahead of Sunday's League Two play-off final against Cheltenham at Wembley.
Crewe, 18th in November when Davis took over, have not lost in three months.
And Davis insists: "The lads have this confidence they can win every game. They don't fear anybody at the moment.
"We crept in the back door and got this far maybe unexpectedly. But we're in it to win it, not just to take part," Davis told BBC Radio Stoke.
"We can only do so much when it comes to planning. And up to now the lads have been fantastic.
"But I don't see any reason why, when they cross that white line at Wembley, it should be any different."
Crewe's largely young, academy-bred side, spearheaded by much-coveted 16-goal top-scoring teenager Nick Powell, appear the team without any pressure on them.
Davis's side have come from nowhere to make the play-offs, beating Southend over two legs to book a meeting with Cheltenham - another side who have been in contention for automatic promotion all season having even briefly topped the table in late January.
But Davis suggests that Sunday's contest will be decided simply by the team that keeps their nerve - which is where their two old heads at the back, keeper Steve Phillips and skipper David Artell, could have such a big part to play.
"It's a case of who copes best on the day, who controls their nerves and who plays the better football," added Davis.
"There's no favourites. If anything they'd be, as they finished above us.
"But the fact that they won more games than us over the season doesn't count for anything now.
"All we know is that Cheltenham have deserved to get there, having come out with a good aggregate lead in their semi against Torquay.
"They're a similar size club to ourselves, who have stood the test of being up there on a medium budget.
"They have pace in wide positions and are a strong, solid side.
"They were even top, then they had a little wobble, but they've finished strong."
Sunday's Wembley showdown throws up sixth-placed Cheltenham against seventh-placed Crewe who, when the two sides came head to head, triumphed on both occasions.
Manager's son Harry Davis converted a second-half penalty at Whaddon Road in October before setting up Artell for the winner in the Gresty Road return a month ago.
But, as Davis senior recalls from his own playing career, league position now counts for nothing.
He was part of a Burnley team that finished sixth in Division Four in 1991, but were beaten in the semi-finals by seventh-placed Torquay United, who went on to beat Blackpool at Wembley.
The last time Crewe went up via the play-offs at Wembley, in 1997, they had future prize assets Danny Murphy, Seth Johnson and Dele Adebola in their ranks.
They were also the lowest ranked of the four Division Two sides, having finished sixth, but progressed after seeing off third-placed Luton Town and fourth-placed Brentford on their way to Division One.
"That's the play-offs," admits Davis. "It's happened many, many times before, when the two teams who have played the away leg last have got to Wembley.
"They might have thought that playing the first leg at home was more of an advantage."
But Crewe chairman John Bowler, who is in his 25th year in office - insists that, win or lose, the club have still made great progress this term.
"It's a chance for the youngsters to show what they can do," he told BBC Radio Stoke. "And hopefully we'll be in League One come 5 o'clock on Sunday.
"I'll admit to being very tense and nervous over the last games, but that's because I was just anxious for Steve Davis and Neil Baker, as I wanted them to get their just desserts.
"But football is a different business.
"In business you can plan all week. In football, you haven't got a clue what's going to happen and you've got no control.
"But, whatever it is, wherever we are, we won't be down-hearted. We'll still have the ambition to take us on next season."