LuaLua calls for DR Congo changes before he will return
Last updated on .From the section Football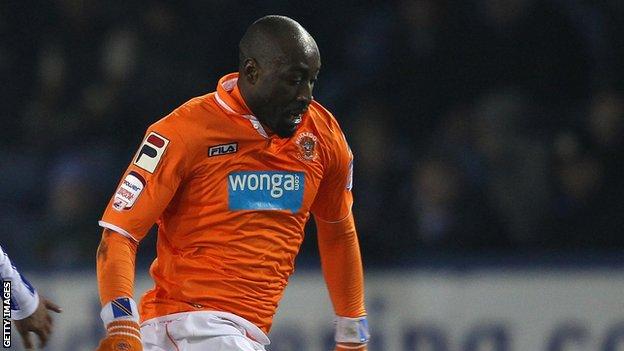 DR Congo striker Lomana LuaLua has called for major changes in the country's football federation.
The Blackpool star has turned down an invitation from coach Claude Le Roy to return for the Leopards.
"Yes I did tell Claude Le Roy I would come back, but I can't go back when I know that things aren't sorted," LuaLua told the BBC.
His complaints centre on the organisation of the game in the country and treatment the players receive.
He said it would be hard to attract European-based players of Congolese origin to play for the country if they are not looked after by the federation.
And he said the blame for DR Congo's dwindling fortunes lay firmly with administrators, rather than coaches or players.
"How many coaches have we changed? We've changed so many coaches but we're not getting the results - it can't be the coaches," Lualua said.
"The Federation - you've got to think about what they're doing to help - its the same people that have been there but nothing has changed.
"You need to find out what's going wrong and if someone's not doing his job properly you should get rid of them."
DR Congo are former African champions and - as Zaire - became the first sub-Saharan African country to go to the World Cup, in West Germany in 1974.
They have been ranked as high as 51st in the world but are now down at 124th place and the last time they went to a Nations Cup was in 2006.
Lualua did not rule out the possibility that he would return to action for the Leopards, if the situation improves.
"If they change and are more organised - I would love [to come back] - I don't give up that easily," he said.
Claude Le Roy's team - without LuaLua and Youssouf Mulumbu are preparing for 2014 World Cup qualifiers against Cameroon and Togo.
That will be followed by the second leg of their 2013 Nations Cup qualifying tie with Seychelles, a tie which they lead 4-0 from the first leg.