Burundi's Nsekera is first female Fifa ex-co member
Last updated on .From the section Football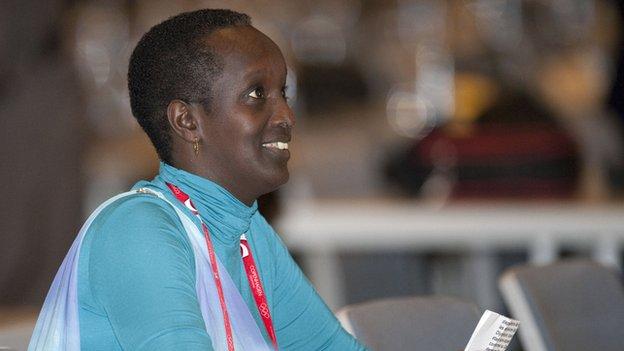 The President of the Burundi FA, Lydia Nsekera, is to become the first female member of Fifa's executive committee.
She will be co-opted onto the governing body's top decision-making group at the Fifa Congress on Friday.
She is already a member of the organising committee for the Olympic football tournament and is part of Fifa's women's football committee.
There will be an elected female representative on the executive committee from 2013.
"She's a lovely lady, she's a tough lady," said Fifa president Sepp Blatter. "She was really the best choice."
Nsekera is also a member of the International Olympic Committee.
She has been the head of Burundi football since 2004 and was the second female to lead a national football governing body in Africa - following Liberia's Sombo Izetta Wesley.
The decision to place a woman at the top level of football administration was part of Fifa's reform process, which was prompted by the series of scandals surrounding bidding for the right to host the 2018 and 2022 World Cups.
As part of the same process, Fifa today announced that Domenico Scala, a Swiss businessman, is to be the independant chairman of its Audit and Compliance Committee.
Like Nsekera's, that appointment is subject to ratification by the Fifa Congress.