Wrexham end of season review: So near yet so far for Morrell's men
By Mark Poyser
BBC Wales football reporter
Last updated on .From the section Football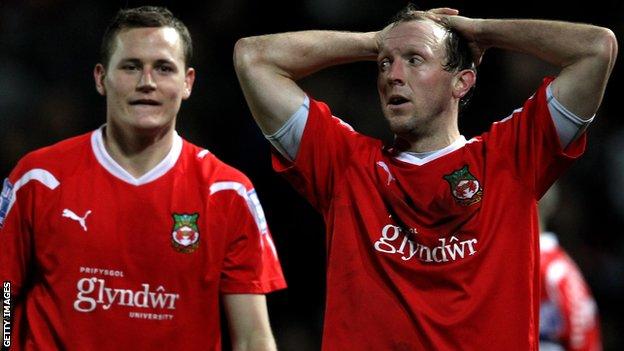 Football can be a cruel mistress sometimes.
Ninety eight points, a record for a Conference side not achieving promotion, and the best Wrexham have ever managed in a single season.
Yet it proved insufficient to secure a return to the Football League after relegation four years ago.
On the face of it, it sounds like a disappointing season having come so close to success without actually achieving it, but it is worth remembering the state of the club were before a ball had even been kicked last summer.
In August, the supporters put their hands in their pockets to raise £100,000 to allow them just to pay the players wages and kick off the season.
Back then, simply surviving would probably have been the height of some people's expectations, but the Dragons seemed to thrive in the uncertain times before the Supporters' Trust takeover offered fresh hope.
Six wins from their first seven games - their best start to a season in over 100 years - propelled them to the top of the table in the early part of the season.
They even survived the loss of manager Dean Saunders to Doncaster at the end of September, with striker Andy Morrell taking over on a temporary basis as player-manager.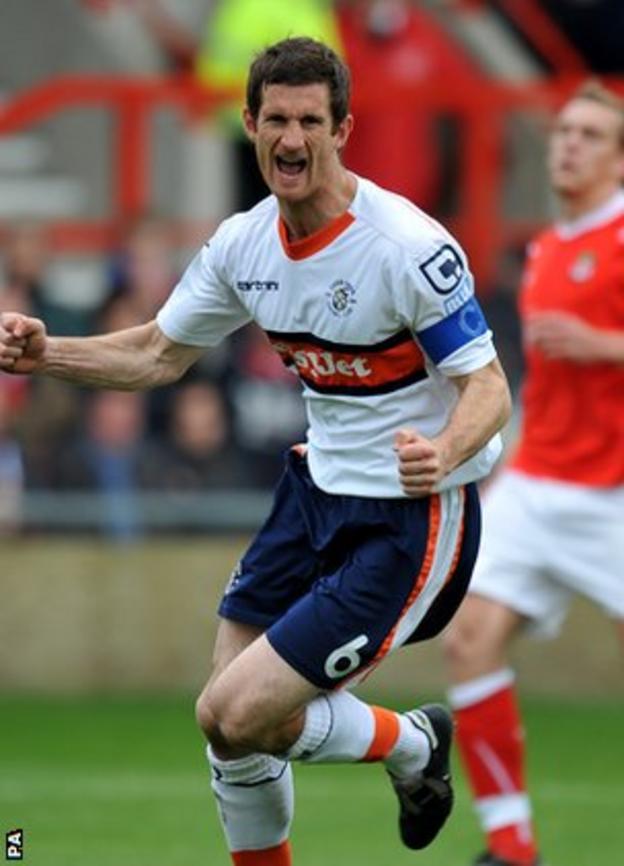 Morrell very much picked up where Saunders had left off, going on a 16-match unbeaten run in the league and almost shocked Championship side Brighton in the FA Cup.
From early October until late January, Wrexham were knocked off the top spot for only a week.
But once big-spending Fleetwood overtook Morrell's men for a second time, there was no way back to the summit.
The confidence and energy pre-Christmas seemed to wither, while Fleetwood went from strength to strength on an unyielding march towards the title.
With automatic promotion gone, Wrexham's misery was compounded by a play-off semi-final defeat to Luton for the second successive season, again after giving themselves too big a deficit to turn around from the first leg.
So having come so near and yet so far, how much optimism should there be at the Racecourse for next season?
League clubs will no doubt come calling for their better players, centre half Nathaniel Knight-Percival has already left for Peterborough.
"I expect phone calls because we've got some good players," said manager Andy Morrell in the immediate aftermath of the two-legged Luton defeat.
"Some players might want to leave but I know the majority will want to stay because it's a fabulous club. I wouldn't want to leave."
The problem he may have is that teams with more money will be able to outspend them in the summer and, perhaps most crucially, in January when getting the right player in can make all the difference when things can be decided by the smallest of margins.
Last season it was Crawley, this time Fleetwood, who will it be next year?
With only one automatic promotion place on offer, clubs are throwing plenty of money to try to secure League Two football. You could argue it is harder to get out this division than stay in the one above.
Many people believe Forest Green Rovers, backed handsomely by chairman and green energy tycoon Dale Vince, could be the team to beat next year.
Wrexham certainly will not be able to compete with that off the pitch, they have to hope their talent on the pitch is enough to see them pushing at the top of the table.
The big worry, though, is that achieving promotion - either as champions or through the play-offs - appears to be harder each year as the Conference gets more competitive.
And the longer you stay in it, the bigger the reality becomes that you may never escape.
That said, the dark clouds were much darker this time last year when the immediate future of the club was in serious doubt.
With all that going on, they ended up coming ever so close to achieving their targets. Maybe we should write off Wrexham more often.