Corby Town appoint Ian Sampson as new manager
Last updated on .From the section National League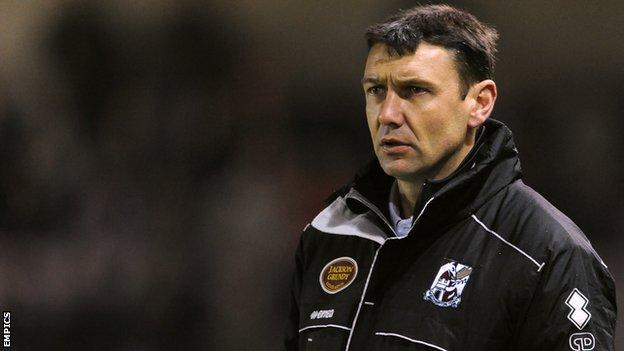 Corby Town have named ex-Northampton Town boss Ian Sampson as their new manager, one day after the club was
He replaces Graham Drury, who
"The potential here is fantastic. It will be a challenge," Sampson, who has signed a rolling contract, told BBC Northampton.
"Ian emerged as a candidate only last week," said chairman Ingram.
"We'd shortlisted six or seven people and there was some fantastic quality there, including a couple of people who've played for England. We were honoured they would want to apply.
"I believe Ian and Chris can get the players we need and we can get the success we need quicker than I need it to. Success will be measured in any number of ways - on the pitch, of course.
"But I hope to fill this ground and turn passion into real excitement for this football club."
"Corby have a proud history, a fantastic little fanbase and the potential to grow," said Sampson.
"It's not going to be a top end budget but for the league it'll be competitive. We want to be a sustainable club - not boom and bust."
The Steelmen finished 17th in the Conference North, only securing their safety in the last match of the season.
"There are no players signed on at the moment, so I have a blank canvas to work on," added Sampson.
"We'll be looking at young players, who maybe have been released from a professional club and are hungry to prove people wrong.
"And we'll be looking at the non-league scene. If we can tap into that, hopefully we'll have the basis of a good football team.
"The players who were here last year are probably in limbo but I know quite a few of them, and there's one or two we'll be looking to keep."
Sampson will be assisted by former QPR and Peterborough United defender Chris Plummer.
"Chris wanted the big job and the fact he's accepted a role as assistant to Ian is testament to the fact that he sees it as a great opportunity," said Ingram.
"Ian won at Liverpool under Roy Hodgson two years ago. He's the England manager today and that speaks volumes."