Cheltenham Town trust in former captain Mark Yates
By Caroline Chapman
BBC Sport
Last updated on .From the section Football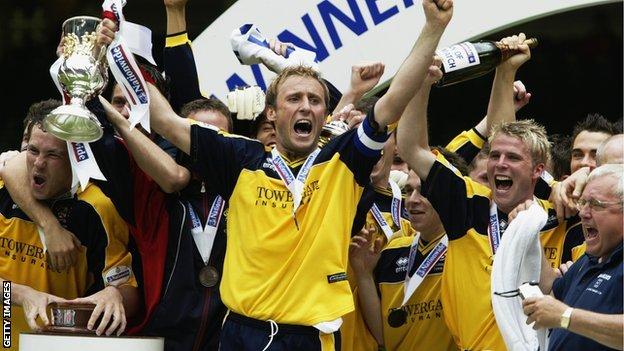 The 2002 League Two play-off final was arguably the most memorable day in Cheltenham Town's history.
But captain turned manager Mark Yates is struggling to recall the occasion.
"I don't remember a great deal - I struggle to remember what happened yesterday," he quipped.
"I remember leading the chairman's daughter out on to the pitch - she was a mascot - and I think Martin Devaney scored, along with [John] Finnigan but I can't remember who else.
"I see pictures that bring back memories and it was a great way to go up."
Although Yates's recollection of 6 May 2002 - especially Julian Alsop's second goal - are a little sketchy, Robins fans will no doubt remember their skipper lifting the trophy after their 3-1 win at the Millennium Stadium against the now defunct Rushden and Diamonds, which saw them promoted to League One for the first time.
It was the pinnacle of Cheltenham's most successful era. Under rookie manager and local lad, Steve Cotterill - who signed Yates for £25,000 from Kidderminster in 1999 - the Robins rose from the Southern League to the third tier of English football in the space of four years.
Cotterill opted to leave on a high and joined Stoke in the summer of 2002.
Ten years and seven managerial changes later, Yates is hoping to lead Cheltenham to another League One comeback when they face Crewe in Sunday's Wembley showpiece.
"It's been a great club for me," the 42-year-old continued. "As a player and manager I've loved it and getting promotion would be unbelievable.
"Would I rather be going to Portsmouth and Coventry or York and Fleetwood? Of course there's only one answer.
"I'd be lying if I said I hadn't thought about it but the 90 minutes will decide where we are. If we go up, we'll be ready for it."
Should they overcome Steve Davis's Crewe - who beat Cheltenham twice over the season but finished a place below them in the table - Yates will undoubtedly be held in the same esteem as Cotterill.
But he has not always been a favourite in the eyes of the Whaddon Road faithful.
Appointed in December 2009, he kept the club in the Football League following the short-lived and somewhat disastrous tenure of Martin Allen.
But they won just five games from January to May last season - including an embarrassing 8-1 defeat by the Alex - and finished 17th, five points off the drop zone, prompting bookies to name them favourites for relegation this year.
"There were questions from the fans," admits chairman Paul Baker. "We found ourselves fighting relegation again but there was no doubt from the board - Mark was the man we wanted.
"To achieve what he's achieved on his playing budget he's done amazingly well to put together a very exciting young squad. He's done a huge job."
Cheltenham and Yates have certainly proved doubters wrong; they were sat top of League Two in January, spent five consecutive months in the top three and secured a money-spinning FA Cup third-round meeting with Tottenham.
The Robins fell behind the chase for automatic promotion after failing to win a game in March but recovered in time to secure a sixth-place finish, and Yates was awarded a new two-year contract.
He is the first to admit they were fortuitous in both legs of the semi-final against Torquay as the Gulls saw countless goal-bound efforts ricochet off the post, crossbar and heroic goalkeeper Scott Brown.
A 4-1 aggregate win secured Cheltenham a Wembley place - an achievement the manager insists was always part of the masterplan.
"We were favourites for relegation but there was always an expectancy in the group," he said.
"From the first day we came back last year we've worked extremely hard and at one stage we were a little bit disappointed we haven't gone up automatically.
"People say it's the best way to go up but it's about making sure we do that. We feel we deserve to be in that final on Sunday and hopefully we can go and do everyone proud.
"We know it's not going to be easy - they probably think they can beat us. They've beaten us twice and why not the third? We've got to go there and put that right and we've got belief in what we do.
"It's one we'll look forward to but it's a game we'll enjoy a lot more if we win."
It remains to be seen whether Cheltenham's trust in Yates will result in promotion, but Baker's faith remains resolute.
"Choosing managers isn't easy - some you get right, some you get wrong - but what we've learnt is that you don't need someone with a huge persona," added Baker.
"What you need is someone who knows the club and with Mark coming through the Cotterill era and the success we had there, he was the natural choice.
"He's an unassuming character - he's not on a big ego trip. He loves the job and most importantly loves the club.
"He's got Cheltenham Town in his heart."