Paul Lambert angry over Norwich City future rumours
Last updated on .From the section Football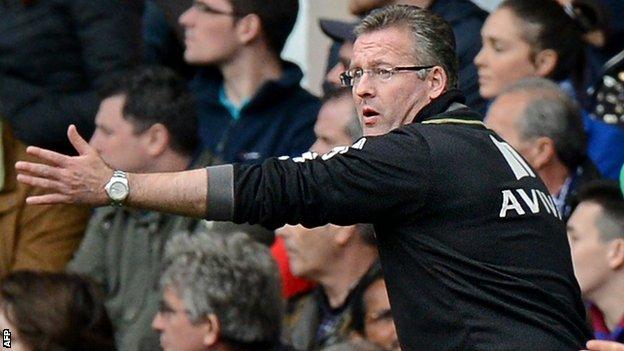 Norwich City boss Paul Lambert has said speculation he could leave Carrow Road is "absolute nonsense".
"I never said I'm leaving. I've said I never know what's going to happen tomorrow. I absolutely love it here. I've loved my time here," he said.
"Because I don't say much, people want to go on message boards, fuel things and make up absolute nonsense."
The former Celtic midfielder stopped short of committing his future to the Canaries after last week's 2-0 win over Villa on the final day of the Premier League season.
But, following Tuesday's testimonial for defender Adam Drury, he was more bullish on the likelihood of remaining at Carrow Road.
"I don't know why people get worked up about it," he told BBC Norfolk.
Lambert has also had to dismiss reports of a dispute between him and top scorer Grant Holt.
"I've never had a fall out with Grant in one iota. I've never said I want to leave the football club.
"People should stop speculating and causing trouble."
Striker Holt featured in team-mate Drury's testimonial - a 2-0 win over Celtic - four days after he handed in a transfer request, which was rejected by the club.
He held talks with chief executive David McNally on Monday afternoon and Lambert is hopeful the situation can be rectified.
"I think enough's been said over what's happened and hopefully that will get resolved. I'm pretty sure it will," he said.
"I think it's a private matter and I think it should remain that way."