Euro 2012: Gaizka Mendieta on Spain's chances this summer
By Matt Monaghan
BBC Sport
Last updated on .From the section Euro 2012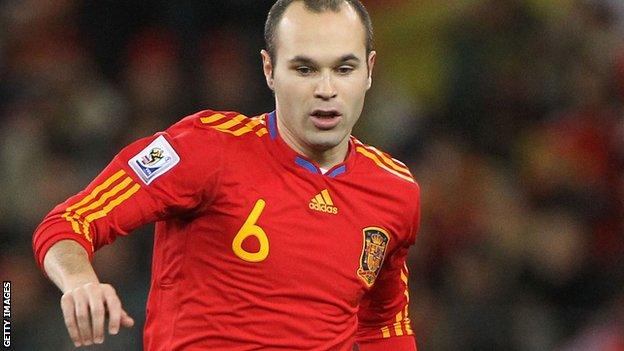 Spain head into the summer as reigning world and European champions and as the bookies' favourites for Euro 2012.
Despite earning the front-runners tag, head coach Vicente del Bosque still has work to do preparing his star-studded squad.
BBC Sport spoke to ex-Spain and Middlesbrough midfielder Gaizka Mendieta to get the lowdown on 'La Furia Roja' ahead of the tournament in Poland and Ukraine.
How does the current team compare to the World Cup-winning side?
"It is essentially the same team, but obviously losing Carles Puyol and David Villa are big, big blows. Xavi is also still coming back from injury, so it is going to be a big challenge for this team for the Euros.
"Even though, say, Puyol is not on the pitch, there is still Sergio Ramos, Raul Albiol and Javi Martinez to play there, so these are still big names in the world of football.
"Spain is living a great moment and you could have two different starting 11s and still be very competitive."
What are Spain's chances of retaining their European Championship crown?
"I think it is going to be tougher than people may think because it has been a long time the players have been playing together.
"At the World Cup, they managed to succeed due to the team spirit and the style of play. I think that is what Spain is about; believing in the quality they have.
"The individuals still have the hunger and desire for the titles, for winning. The challenge to win three tournaments in a row is still there."
Who will be Spain's most important player at Euro 2012?
"I think Andres Iniesta is key for Spain. We used to talk about strikers being the main players in the past, but he is the key player now.
"I'm especially talking about the way Iniesta takes responsibility and his skills in the one-on-one in the midfield, he is one for changing and making things happen in a game."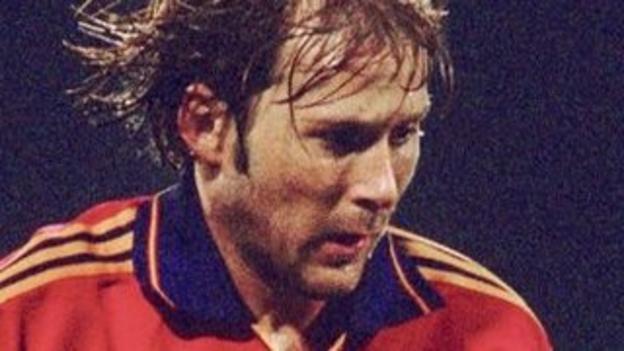 How will they cope with opposition who defend in large numbers?
"It is difficult for any team when your rivals locks themselves in the box. You can control the ball, but there are not many things you can do to break that up.
"Teams will do that against Spain, but in Fernando Llorente you have a proper 'number nine.'
"Plus, you still have the mobility of David Silva, Pedro, even Cesc Fabregas, if he is played in that role.
"Spain have struggled in some friendlies and official games but they have learnt from the past against teams defending on the edge of the box."
How big is the loss of striker Villa?
"It is a big blow losing David Villa, because even if we have players who could perform at a high level to replace him, like Llorente, Fernando Torres or Roberto Soldado, Villa is Spain's all-time top scorer and a player who can make a difference.
"It is very honest of him to admit he is not 100% and it is very professional what he has done."
Does Chelsea striker Fernando Torres deserve his place in the the 23-man squad?
"I would take Torres to the tournament as he is starting to look sharper. His goalscoring is back, his confidence is back.
"When a striker starts scoring goals, it is a boost for them."
How important is the absence of injured centre-back Puyol?
"It is definitely a blow. I think the balance in the group of players is great, the atmosphere is key for the success and he has been key to that.
"Anyone missing is important and especially someone like Puyol who is so experienced. He is such an important figure for the dressing room, on and off the pitch.
"This is the same for Xavi and David Villa."
How vital a role will captain Iker Casillas play?
"I played with Casillas at Euro 2000 and the World Cup in 2002. He was already in the Real Madrid side and you just knew he wasn't going to be there for a short period of time.
"There are players such as Casillas, Xavi and Torres who have been there since the last Euros. By the time the tournament comes along you have been in the training camp for almost a month with the friendly games and you need those players to be there for the younger ones and to help the atmosphere in the hotel and training ground.
"Puyol is one of those who have been there so many times, and he is going to be a big miss."
What is Del Bosque's main task as head coach?
"Knowing del Bosque, he will be keeping the motivation up, the nice atmosphere and fellowship in the group.
"You cannot teach those players as they know everything about playing the game but he is keeping that spark alive.
"That is down to the manager and he is doing that."
Making a team out of rivals Real Madrid and Barcelona?
"If anything [Real winning the title] will make the Barca players want it even more, if that is possible, as they have missed the La Liga title.
"I don't think you can say Barcelona are in decline. Villa, Puyol and Xavi are key in the national team and there are so many young players coming through like Cristian Tello, Isaac Cuenca and Thiago."
Mendieta's starting side would be...
"If I was choosing the starting team I would go for: Casillas; Ramos, Albiol, Pique, Alba; Xavi, Busquets, Iniesta; Mata, Llorente, Silva."