Liverpool stadium: 'Progress' being made on Anfield future
Last updated on .From the section Football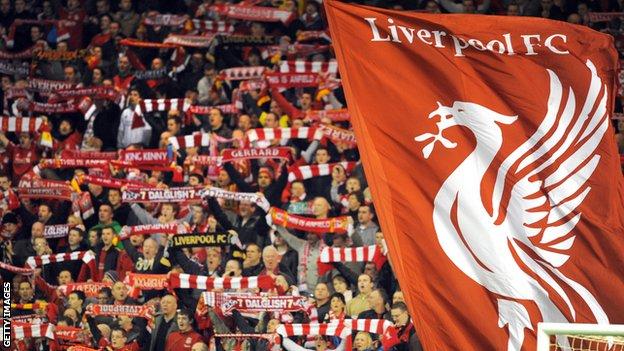 Liverpool managing director Ian Ayre says the club are moving closer to a decision on whether to redevelop Anfield or move to a new stadium.
The Reds are continuing to explore both options and are hopeful of reaching a conclusion ahead of schedule.
"There is progress and we are still in dialogue on both fronts," said Ayre.
"I think it's fair to say, if we continue making progress in that area, it might move faster than we originally anticipated."
The financial implication of a move away from Anfield - to a new stadium in Stanley Park - is a key factor for owners Fenway Sports Group.
A new ground is likely to cost in excess of £300m to build and would only increase capacity by around 15,000.
"It's pretty hard to make that stack up," said Ayre.
Remaining at Anfield has its own problems, however, as expansion would infringe on the "right to light" that homeowners in the surrounding area are entitled to.
FSG has been criticised for not coming up with a definitive plan in the 19 months since taking control of the club but Ayre stressed headway is being made.
"We have got more dialogue going with the Anfield residents than we ever have, as with other stakeholders in and around Anfield," he added.
"I think it's also fair to say that we are already fairly well down the line with a couple of major brands who have shown significant interest in naming rights for a new stadium.
"Part of the problem is that people assume that because we don't make a major announcement, because we can't show any spade in the ground, that nothing's gone on and no progress has been made.
"The most important thing for us, especially under this owner, has been about certainty on the stadium.
"In the case of staying at Anfield, that certainty is with residents in and around that area that we would need to convince. When we have that certainty, we will make the announcement and move on it."
Ayre told fans in July 2011 that it was looking "increasingly unlikely" that the Reds would be able to redevelop Anfield, with a move to nearby Stanley Park a more realistic option.
But Liverpool's principal owner, John W Henry, has always been an admirer of Anfield and the stadium atmosphere.
"It would be hard to replicate that feeling anywhere else," the American said in February 2011.