Central African Republic and Botswana face problems
Last updated on .From the section Football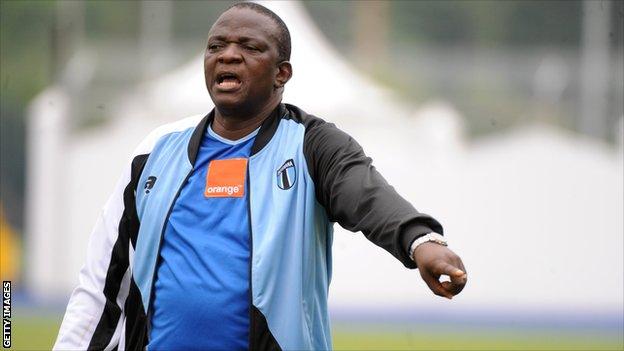 Botswana and Central African Republic have both been hit by problems in the build-up to their 2014 World Cup qualifier next month.
CAR's coach Jules Accorsi has quit his job after not being paid for more than six months.
Meanwhile Botswana have had a number of training sessions cut short because the country's football association has been unable to pay for the facilities.
The two meet in Bangui in Group A of 2014 qualifying in early June.
CAR then travel to play Ethiopia while Botswana host South Africa.
CAR also have two 2013 Africa Cup of Nations preliminary matches against Egypt in June.
Accorsi has led the Low-Ubangui Fawns, as CAR's team are known, since August 2010 and has taken them from 202 in the world (out of 205) to 123.
"I had been hoping after talking to senior people in the government that the problem would be sorted out...but they have not responded," he said.
"I have finally decided to leave, but with much regret."
Botswana's financial problems have hampered the team's international activities since before their maiden Nations Cup appearance, at Equatorial Guinea and Gabon 2012.
The squad have only just returned to training despite not being paid.
Training sessions on Monday and Tuesday were cut short because the venues had not been paid.
"It was embarrassing to get there and be told that the ground was not paid for," coach Stanley Tshosane told BBC Sport.
"We had the players sitting in the bus while we tried to negotiate to train because the association had not paid."
Once negotiations had been completed they were able to train for only 15 before they had to make way for another team that had booked the ground.
On Tuesday, the national side had to share the pitch with army side, BDF XI, using only half of the pitch for their session.
"It is disappointing because when the team does not do well they will point fingers at me yet there are all these issues that affect us," Tshosane said.