Crewe captain Artell out for career high at Wembley
By Ged Scott
BBC Midlands Sport
Last updated on .From the section Football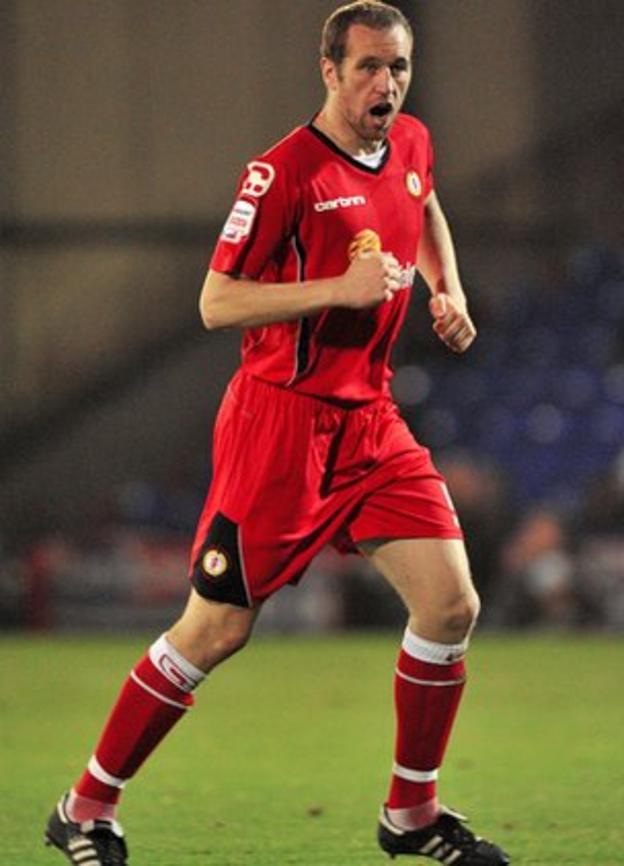 Until last week at Roots Hall, Crewe Alexandra captain David Artell had only painful memories of the play-offs.
In 2010, he was in the Morecambe side battered 6-0 by Dagenham & Redbridge in the League Two semi-final first leg.
Then, having moved on to Crewe that summer, just when it looked as if he might lead the Alex all the way to glory, he got injured.
But Artell's return for the play-off semi-final second leg at Southend last Wednesday night helped shore up the Alex defence on an evening when they knew they would come under pressure.
And now the journeyman centre-half is ready to lead his side out to lock horns with Cheltenham at Wembley on Sunday afternoon.
Artell, who may actually be playing his final game for the club at Wembley as his contract is about to expire, has already more than done his bit this season.
His last action prior to the Southend second-leg was to injure his hamstring scoring the goal that earned Crewe a 1-0 win over Cheltenham at Gresty Road a month ago.
Then, just when he seemed ready to return after missing three games, Artell suffered a new foot injury in training.
But he is now fully fit and raring to go against a Cheltenham side that the Alex have already beaten twice this season.
And, although aware that Southend had twice beaten Crewe in their two league games before then losing to the Railwaymen in the play-offs, Artell now sees his side's head-to-head form as an advantage. And that's on top of Crewe's current 18-match unbeaten run.
"Would you rather be in our dressing room or Cheltenham's? I know which one I'd rather be in," he told BBC Stoke.
"The questions that are unanswered are all in their heads, not ours.
"We know we can beat them. We've done that twice this season. It's up to us now.
"For all of us, it's into the unknown but that's stood us in good stead so far.
"None of us, apart from our keeper Steve Phillips and me, have been in play-off games before.
"But, if we play well, we know we can beat any side in the league. They're fearless, these young lads."
Since leaving Rotherham United for a season at relegation-bound Shrewsbury Town in September 2002, Artell has spent his career in the Football League basement, also playing for Mansfield Town and Chester City, as well as Morecambe.
But, while being relegated from the Football League at Shrewsbury and then crashing in the play-offs with Morecambe were the lowlights, Sunday could turn out to be his career high.
"It will be a fantastic feeling and an honour to walk out behind [manager] Steve Davis," he said. "And it would be even better if we could win lift the trophy.
"To be captain is a personal privilege bestowed on me by Steve and I'm grateful.
"To skipper any side is fantastic. But to be leader to these young lads, that's one of my strengths.
"They come with all sorts of problems about Facebook and Twitter that I haven't got a clue about.
"But, at the same time, on football matters, on which I do think I have a fair amount of knowledge, when they think they can't approach the management, I'm happy to talk to them until the cows come home.
"Some might say I talk rubbish but others will say I've got a half decent head on my shoulders."
And, when it comes to the matter of winning football matches, Artell insists that it is not all talk.
"We're going there to win a football match," he said, "not to get caught up in the occasion.
"We're 90 minutes away from promotion but we're also 90 minutes away from staying in this league, which nobody wants.
"We want to make it a great day for the fans and the only way to do that is by getting the right result."
David Artell was talking to BBC Stoke sports editor Graham McGarry.