Occasion won't faze Sheffield United - Neill Collins
Last updated on .From the section Football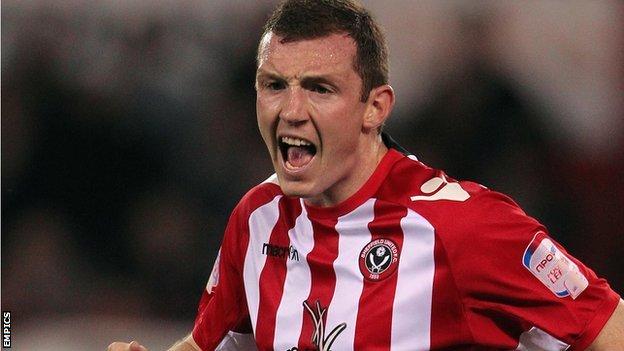 Sheffield United defender Neill Collins is confident his side will not let the occasion get to them in Saturday's League One play-off final.
The Blades take on Yorkshire rivals Huddersfield at Wembley for a place in the Championship.
"We're professional footballers and our minds will just be on the game," he told BBC Radio Sheffield.
"If anything it's harder watching a play-off game than playing. When you're playing you're in control."
He added: "It's tougher for the fans, family and the other people connected to the club but when you're on the pitch, you're just focused on the game."
Collins, who scored the winning goal when the two sides last met in February, has made 53 appearances at the heart of the United defence this season.
The former Wolves and Leeds man acknowledged the Blades will need to be on top form defensively throughout the team.
"They can score goals from anywhere and it's up to us to be solid," he continued.
"It's a cliche but we defend as a team. If you look at our clean sheets in the games with Stevenage, the midfield and strikers deserve a lot of credit for that.
"Obviously Jordan Rhodes is a big threat for them but it's not just about stopping him, we need to stop them creating chances for him."