Malky Mackay 'relaxed' over Cardiff City transfer funds
Last updated on .From the section Football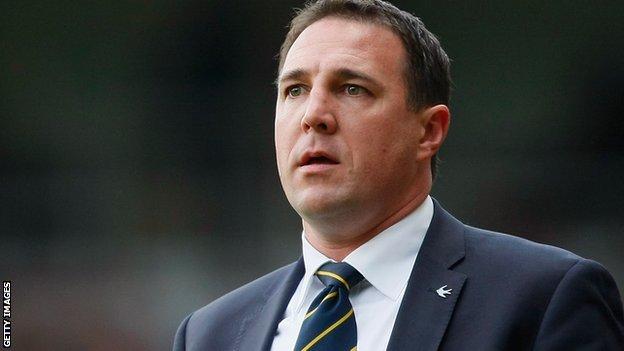 Cardiff City manager Malky Mackay says he is continuing to plan his summer recruitment despite uncertainty surrounding the club's finances.
The club's Malaysian owners scrapped plans to change their shirt colour from blue to red following opposition from some fans.
Doubts have now emerged over a proposed cash investment but Mackay believes he will have money to spend on the squad.
"Like everything it's fluid," said Mackay of Cardiff's transfer budget.
"There's certain targets we would like to go for but like anything we're in with a lot of other clubs into these targets as well.
"I'm working closely with our chief executive Alan [Whiteley] and TG [chairman Dato Chan Tien Ghee] in terms of the budget we have and where we can pitch those targets at."
Cardiff City's dreams of promotion to the Premier League were dashed following defeat by West Ham over two legs in the Championship play-off semi-final.
Following defeat to the Hammers details emerged that main backer Tan Sri Vincent Tan planned a multi-million pound investment.
But that investment was subject to a rebrand, from a blue to red kit and a new logo that would have made the Welsh club more appealing in the Far East.
That investment is now being reassessed after opposition from some sections of fans.
Chairman Dato Chan Tien Ghee flew in from Malaysia last week to meet Mackay and the Cardiff City board to discuss the club's future, stressing the club cannot continue to function in its current state.
Mackay, who succeeded Dave Jones as Cardiff boss in June 2011, says the Malaysian owners care deeply about the Championship club.
"You only have to look at the amount of money that's been invested in the football club to tell you their hearts are in the right place," said Mackay.
"They care deeply. They fly in sometimes for 24 hours to come and watch a game [to] support the team and support the club.
"That shows you the level of commitment that they've got. From my point of view it's been nothing but positive discussions I've had with my chairman.
"I've certainly been kept involved in everything that's gone on.
"I was involved in the meeting last week when our chairman TG was over and he spoke to the board and then spoke to myself.
"I've been kept abreast of everything that's gone on and I'm very grateful for that.
"There's a transparency at the club in terms of the way going forward and the involvement of myself and my role at the club.
"At the moment I'm quite relaxed in terms of the way the dialogue's going."
Mackay refused to be drawn into the debate over blue or red shirts, but said he had not been surprised by the reaction of those supporters opposed to such a plan.
"I do understand the passion of the people of Cardiff City," said the former Scotland and Celtic defender.
"I understand football and I've been immersed in it my whole life so I get the history of football clubs. I get the modern business of football as well.
"There's a lot of passion involved and a lot of people care deeply about this football club.
"I'm excited about the future of Cardiff and looking forward to working over the next few months to try and get us ready to start the season."