Style mix key to Bournemouth promotion bid - MacDonald
Last updated on .From the section Football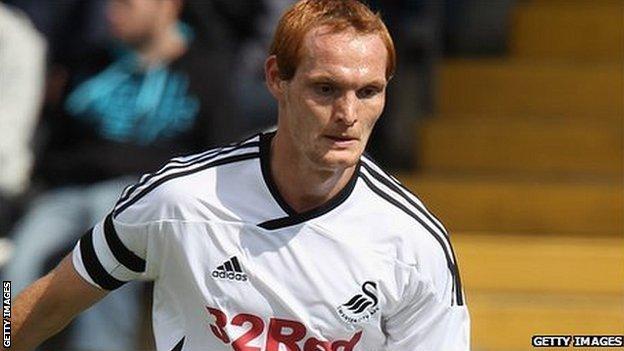 Midfielder Shaun MacDonald believes being able to mix playing styles will be key to Bournemouth's chances of winning promotion next season.
The 23-year-old former Swansea player admitted the passing style introduced by new management duo Paul Groves and Shaun Brooks suits the current squad.
But MacDonald told the club website there will be times when the team will have to be more direct.
He said: "Sometimes we need to play it long, we just need to understand when."
Together with Brooks, the much-travelled Groves took over when former manager Lee Bradbury lost his job at the end of March.
Althought the Cherries won only two of their remaining eight League One matches, the club's supporters made it clear they appreciated the duo's efforts to instigate a passing game, and they were subsequently appointed on a full-time basis.
Wales international MacDonald, who missed four months of the season after picking up a toe injury in September, started the last three games.
"They've definitely got us passing the ball and that can only be a positive with the quality of the players we've got," said MacDonald.
"They've tried to change a few things and do things differently and that takes time.
"I had a few ups and downs over the season, but finished it strongly. It was good to finish the season in the team - now I want to play every game next season."
Groves has also confirmed the club will not be fielding a reserve team in the Football Combination next season.
Instead the former youth team manager has created a development squad which he believes will provide a 'smoother transition' from youth team football to the first team.
He also said he intends to arrange a series of friendly fixtures, particulalrly in the early part of the season.