Peter Whittingham will stay at Cardiff City - Mackay
Last updated on .From the section Football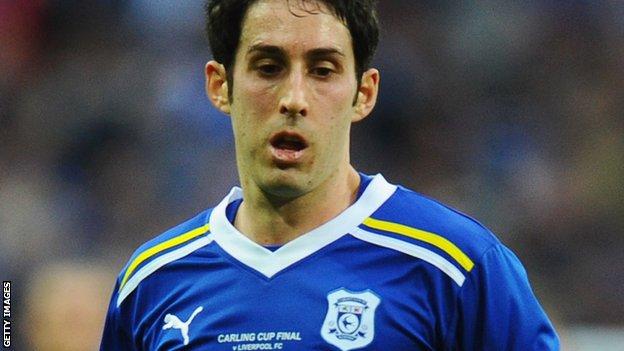 Cardiff boss Malky Mackay has insisted Peter Whittingham will not be leaving the club during the close season.
"I want my good players to be here and I think there's more improvement in him again," said Mackay of Whittingham.
"Peter is one of my key players and he's under contract here for another three years."
Former England Under-21 international Whittingham joined the Bluebirds from Aston Villa in January 2007.
Since then the 27-year-old has scored 68 goals in over 250 appearances in all competitions for the Welsh club.
Cardiff have previously turned down bids for Whittingham, who signed a three-year contract extension with the club in August 2011.
"I think he's a top class young man, someone that works hard every day at training," Mackay told BBC Wales Sport.
"Good players are always linked with clubs. That's always going to be the case.
"You would hope some of your players [are] linked with football clubs because it means they're doing something right."
Mackay says he is continuing to plan his summer recruitment despite uncertainty surrounding the club's finances.
The Scotsman has said once again he will need to add to Cardiff's squad following their failure to secure promotion to the Premier League.
Burnley's 22-year-old striker Jay Rodriguez, who scored 21 goals for the Clarets last season, is a reported target.
And Mackay says he is more concerned about the quality rather than quantity of players he signs for the club.
"We obviously understand and realise that we've got to have more strength in depth. We've got to work hard this summer," said Mackay.
"It's not about an exact number of people, it's trying to make sure that we get the best quality in here that we can get that can adapt and fit into the culture of Cardiff City.
"It's about getting people that fit the ethos of the club and the ethos of the way I want the club to work and the way the players want to work. They've got to come in and fit into that.
"There's a good group there now and it can be easily wrecked by bringing in the wrong type of character or the wrong person with the wrong attitude."
After replacing Dave Jones as Cardiff boss in June 2011, Mackay inherited a squad which had lost 12 players.
But compared to last summer's upheaval the ex-Celtic defender says he will have more time during this close season to add to his squad.
"You want to sign your players 10 minutes after the season finishes," said Mackay. "Everybody wants to sign all their players.
"Invariably it doesn't happen like that and if you look back to last year I never really started until [the] first few days of July.
"We managed to bring 10 players into the club in a very short space of time. I know we're ahead of that this year."