Joey Barton: A troubled career
Last updated on .From the section Football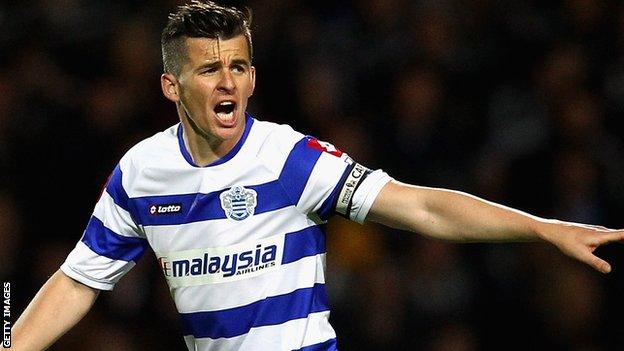 Queens Park Rangers midfielder Joey Barton has fallen foul of the Football Association on more than one occasion.
On Wednesday he was issued with a 12-match ban after being found guilty of two counts of violent conduct during Rangers' 3-2 defeat by Manchester City on the final day of the Premier League season. Here, BBC Sport reflects on some of the moments that have made headlines during the 29-year-old's career.
Manchester City
In February 2004 Barton was red-carded for the first time in his senior career. He was sent off during Manchester City's FA Cup fourth-round tie at Tottenham for two bookable offences.
A month later he stormed out of Eastlands before kick-off after being axed from the team to face Southampton.
In July the same year he was heavily criticised by City manager Kevin Keegan for causing a mass brawl in a pre-season friendly at Doncaster.
Speaking at the time Keegan said: "I told him the truth - you either play football or you come off. There is no choice.
"If we had been away from home in the Premiership and he did that, he would have been sent off."
That December he was fined six weeks' wages by City after stubbing a lit cigar in the eye of young team-mate Jamie Tandy at the club's Christmas party. He was forced to pay four weeks' salary - approximately £60,000 - immediately, with a further two weeks suspended for a year. Tandy later sued Barton, winning £65,000 in damages.
Seven months later he was fined again by the club, this time eight weeks' wages, after being found guilty of gross misconduct. The midfielder was involved in an altercation with a 15-year-old Everton fan at City's team hotel in Bangkok during a pre-season tour and sent home.
In September 2006 he dropped his shorts in the direction of Everton fans following City's 1-1 draw at Goodison Park.
And in December the same year he was shown the second red card of his career, this time for a two-footed lunge on Abdoulaye Faye in City's 2-0 home defeat by Bolton.
In May 2007 he was suspended by his club after a training-ground altercation with Ousmane Dabo left the Frenchman needing hospital treatment. He was charged with assault and on 1 July 2008 he received a four-month suspended jail sentence. He was also given a 12-match ban by the FA - six matches of which were suspended - and a £25,000 fine.
Newcastle United
He moved to Newcastle a month later but on 27 December 2007 the Liverpool-born player was arrested in his home city after a late-night incident. He was later charged with common assault and affray and was remanded in custody, missing the club's New Year fixtures.
On 20 May 2008 Barton was jailed for six months after admitting the charges.
In May 2009 he was sent off against Liverpool for a late challenge on Xabi Alonso. He received subsequent criticism by the then Newcastle boss Alan Shearer and was suspended by the club two days later.
"I wasn't happy, I was bitterly disappointed at the way that happened," Shearer told BBC Sport.
"I asked him to stay calm in the heat of the battle but it was a stupid tackle and he deserved to be sent off."
He was banned again by the FA in November 2010 after he punched Blackburn winger Morten Gamst Pedersen during Newcastle's 2-1 defeat at St James' Park.
At the beginning of the season he was transfer-listed after a series of Twitter comments criticising the club.
Queens Park Rangers
He joined QPR on 26 August 2011 on a free transfer and became club captain, but was sent off in January 2012 as Rangers lost 2-1 at home to Norwich.
Later that month he criticised the FA, calling them an "Orwellian organisation" in need of a "drastic shake-up".
Earlier this month, in the wake of his red card at City, he took to Twitter again to make clear his dislike of Shearer following comments from the former England striker on Match of the Day.