Rangers: Former director wants administrator investigated
Last updated on .From the section Football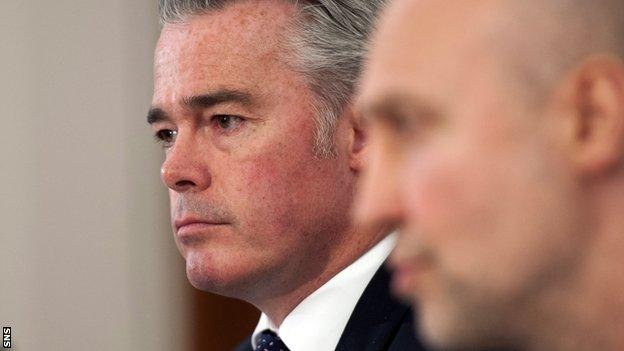 Former Rangers director Paul Murray has called for a probe of Duff & Phelps's handling of the football club's period in administration.
It follows a BBC documentary suggesting a conflict of interest over previous dealings with club owner Craig Whyte.
"Some serious allegations in this programme seem to be backed up by documentary evidence," said Murray.
"And I really feel that there has to be an investigation as a matter of urgency by the regulatory bodies."
Duff & Phelps and partner David Grier have strongly denied that his involvement with Whyte before the firm's David Whitehouse and Paul Clark were appointed as administrators included knowledge of the Scottish businessman's use of season tickets sales to fund his takeover.
Grier had said he was unaware of the Ticketus deal until August 2011.
But the BBC has seen evidence that he knew a deal was under way in April, before Whyte's takeover.
Whyte completed the takeover of Rangers on 6 May 2011, but it was revealed he had used the London finance firm Ticketus to fund the purchase of the club by selling off most of the next three years' worth of season tickets.
Duff & Phelps describe the allegations as highly defamatory and say they are likely to take legal action against BBC Scotland.
But Murray urged the Insolvency Practitioners Association to look into Duff & Phelps's conduct and the allegations of a conflict of interest.
"For Rangers fans to have confidence in the process over the last three months, this has to be investigated as a matter of urgency," he told the BBC's Newsnight Scotland programme.
"The problem from the club's point of view is that we don't have much time."
Murray's Blue Knights consortium had an offer for Rangers rejected, with Duff & Phelps granting preferred bidders status to a consortium led by former Sheffield United chief executive Charles Green.
Green is hoping to bring the club out of administration through a Company Voluntary Arrangement with creditors, but the process will not be completed before a players' agreement to take reduced wages runs out and some of them start to move out of contract.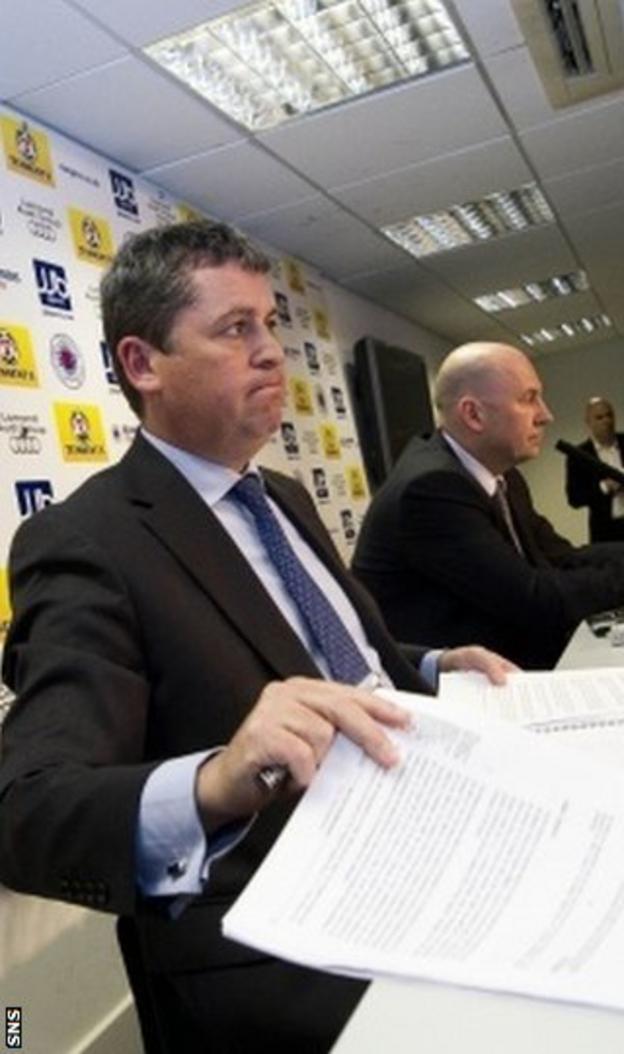 "In their wisdom, they have given Charles Green's consortium preferred bidder status and I do not want to do anything to adversely effect the club," said Murray.
"I was involved as a director and been involved in trying to buy the club with others, but first and foremost I am a fan and want to see the club in safe hands.
"Duff and Phelps have been quite clear that the club will run out of money at the end of the month.
"But tonight's programme, if substantiated, suggests a lot of question marks over that process over the past three months.
"That process has taken a long time and a lot of people have questioned why it has taken a long time."
Murray hoped an investigation would clear up a number of questions being asked by Rangers fans and other observers.
"I am a qualified chartered accountant and some elements of the process have bemused me," he said.
"Why were Duff and Phelps appointed in the first place? I wonder why one of the four largest accountancy firms were not appointed.
"Why was Craig Whyte so keen to get Duff and Phelps appointed?
"And Duff and Phelps have to answer questions over David Grier's involvement in this."