Matt Phillips hopes joining Scots can ease his Wembley heartache
Last updated on .From the section Football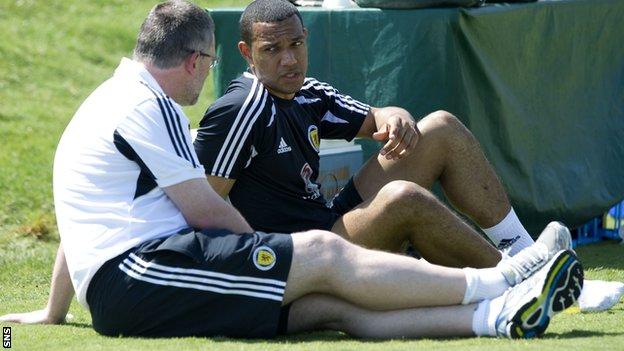 Blackpool winger Matt Phillips hopes to ease Wembley heartache by finally making his Scotland debut this weekend.
Boss Craig Levein has already indicated that the 21-year-old will earn his first cap against the United States in Saturday's friendly in Jacksonville.
"It was a massive disappointment at Wembley," Phillips said of Blackpool's promotion play-off loss to West Ham.
"To now come away with Scotland, it's a great feeling to be here and I'm just happy and looking forward to the game."
Phillips is out to impress Levein ahead of the World Cup qualifiers, which begin with a meeting against Serbia in September.
Born in Aylesbury and having already represented England at under-19 and under-20 level, Phillips caused a stir when he switched allegiance to the Scots.
His eligibility comes courtesy of Scottish grandparents and, speaking at the team's training base in Florida, Phillips said: "I've got no regrets. It was a decision that I made over a long period of time.
"I've had various meetings with the scout, Mick Oliver, and the gaffer, so I'm delighted and I'm looking forward to the future.
"I always thought it was important to come away before the qualifiers to get the experience and get to know everyone and the set-up and I'm really looking forward to the games now."
A hamstring injury denied him a debut in Scotland's last outing, a friendly in Slovenia in February, and Phillips is delighted the wait is about to come to an end.
"Since I made the decision, I've been waiting for the next game," he said.
"I missed out on the Slovenia game through injury, so I'm delighted to be on this trip and hopefully get my cap.
"I came up and met all the staff and the players in the last squad before Slovenia, but I think training is the best place to get to know people and how they play.
"I had my first training session here this morning. It's nice to be around the lads again and get to know them all.
"It was disappointing to miss the Slovenia game, but I didn't want to go out and try to perform at only 50% fit.
"I'm happy now that I'm free of injury and can go out and play."