Rangers fans concerned by administrators' role

Last updated on .From the section Football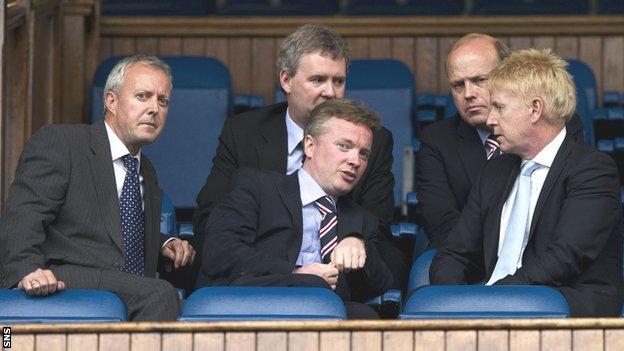 Rangers fans have no faith in administrators Duff & Phelps, according to a supporters' spokesman.
The London firm has been running Rangers since the club entered administration on 14 February.
A BBC Scotland documentary has revealed a potential conflict of interest with Duff & Phelps partner David Grier, a claim the company denies.
John Macmillan, of Rangers Supporters' Association, said: "Virtually every fan is unhappy with their performance."
Asked if supporters of the Ibrox club had faith in the company, Macmillan added: "No, absolutely not.
"I think Duff & Phelps' handling of this administration has been a shambles from day one.
"I don't know how many times they have announced a preferred bidder and withdrawn it at the last moment.
"There has to be a serious investigation into their handling of this.
"But we hope that Rangers will exit administration under new ownership and that this investigation can take place at a later date.
"The priority is to get out of administration via a CVA and hopefully this Duff & Phelps thing won't hold that up."
The Court of Session approved Rangers owner Craig Whyte's choice of Duff & Phelps as the club's administrators, but Macmillan, secretary of the fans' group, believes the company's involvement "just doesn't sit right".
"They were appointed by Craig Whyte himself and that tells its own story," he said.
Whyte used funds from Ticketus to buy the club from Sir David Murray for £1 and pay the £18m debt owed to Lloyds Bank.
Duff & Phelps's senior partner Grier had said he was unaware of the Ticketus deal until August 2011.
But BBC Scotland has seen evidence that suggests he knew a deal was under way in April, before Whyte's takeover.
The programme also revealed that 63 Rangers players plus Ibrox staff, including previous owner Sir David Murray, benefited from Employee Benefit Trusts.
Rangers' use of that scheme is currently subject to a First Tier Tax Tribunal and could land the club a bill of up to £75m.
Further, if the payments from the EBT scheme were not registered properly with the Scottish football authorities then Rangers could be punished by the Scottish Football Association and the Scottish Premier League.
Last season, Rangers were docked 10 SPL points for entering administration and were fined £160,000 and banned for a year from signing players over 17 years of age by the SFA.
Should Rangers form a new company, the SPL must decide whether they should be allowed to retain their place in the top tier.
Some fans of other clubs have contacted their clubs to insist that a "newco" Rangers must start in the Third Division.
The member clubs will meet on 30 May to discuss the issue.
"I don't know what more they can do to them other than banish them from the face of the earth, which I don't think would do Scottish football any good," Macmillan said.
"If Rangers go down to the Third Division, I think it would kill Scottish football.
"I don't think very many [fans] would accept it would be a reasonable punishment for the club.
"If either of the Old Firm left the SPL you would find it difficult to get a sponsor for the league and get a TV contract up and running."