Euro 2012: Germany building from the Bayern block
By Raphael Honigstein
German football expert
Last updated on .From the section Euro 2012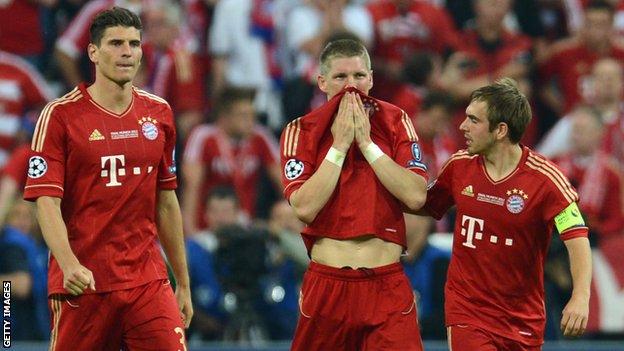 It is almost 10 years since Bayern Munich's general manager Uli Hoeness came up with the moniker "FC Bayern Deutschland" - a term that represented his vision of a 2006 World Cup dominated by players from his club.
It didn't quite come to pass: only Philipp Lahm and Bastian Schweinsteiger were regulars in Juergen Klinsmann's Germany side, if you discount then Chelsea-bound Michael Ballack and Cologne striker Lukas Podolski, who was yet to make the move to the Allianz Arena.
In Poland and Ukraine this summer, however, Hoeness's dream could well be realised.
The expected line-up for Germany's opener against Portugal on 9 June will feature at least six Bayern players - Manuel Neuer, Holger Badstuber, Lahm, Schweinsteiger, Thomas Mueller and Mario Gomez - and it's not inconceivable that Toni Kroos and Jerome Boateng could also find their way into the first XI.
That would potentially leave Borussia Dortmund centre-back Mats Hummels, a former Munich player, and Real Madrid duo Mesut Ozil and Sami Khedira as the sole non-Bayern players.
The prevalence of Reds in coach Joachim Loew's side has not lessened the Nationalmannschaft's immense popularity - as German fans who dislike Bayern are quite happy to cheer the same players when they're representing their country.
It's not an entirely new situation either: Bayern were loathed in the mid-70s but six of their players - Sepp Maier, Franz Beckenbauer, Hans-Georg Schwarzenbeck, Paul Breitner, Hoeness and Gerd Mueller - became national heroes when they won the 1974 World Cup for West Germany.
A strong Bayern block has been seen as a good omen for the national team ever since, and with some justification.
Six Bayern players started in the Euro 96 final (a 2-1 win v Czech Republic), while five Bayern players plus former team-mates Andreas Brehme and Lothar Matthaeus (both Inter) were in the squad for the 1990 World Cup final (a 1-0 win v Argentina).
The recent dominance of Spain in international tournaments has followed a similar blueprint - if you substitute Bayern for Barcelona - which goes to show that more than superstition is at play.
In a world where the qualitative gap between club sides and international teams seems to increase with every passing year, it very obviously pays if you can get as much club football - in terms of personnel and tactics - into the national team.
Just ask reigning world and European champions Spain. They're essentially Barcelona minus Lionel Messi and Victor Valdes.
But as far as Germany goes, it's not just Bayern who have sent a strong contingent.
Five players from double-winners Dortmund are also in the squad. A second strong block should also benefit Loew's team: it enhances togetherness and provides some interesting tactical options.
Dortmund are less about possession than Bayern, they rely on pressing and running. If Loew could combine the two styles he'd be close to realising his ideal formula.
There's only one problem: the Bayern block will join up with the rest of the squad after the worst possible end of the season.
Loew had warned before the Champions League final in Munich that a defeat by Chelsea could amount to a "low blow". "The disappointment would be huge, it would take time to get it out of the heads of the players," he said.
Since Bayern's distressing night at the Allianz Arena, the Germany manager has backpedalled a little bit, as you'd expect.
"They will pick themselves up," he insisted. "They've had great games in the Champions League but got unlucky in the final. There's no need for them to doubt their own qualities."
Psychologically, it's a tricky situation. Loew is great at creating a kind of positive tension in the dressing room nut now he has to do some counselling first. And how will the two blocks affect each other?
The Dortmund boys could lift their colleagues up or get dragged down by the bad vibes. "It could be the Dortmund swing or the Bayern blues," wrote Sueddeutsche Zeitung.
Germany have been there before. A Bayer Leverkusen block of Hans-Joerg Butt, Ballack, Oliver Neuville, Carsten Ramelow and Bernd Schneider went to the 2002 World Cup after finishing as runner-ups in three competitions.
Oliver Bierhoff, now Germany's technical director, remembers then manager Rudi Voeller talking extensively to the Leverkusen players.
"We will lift them and show them empathy. They can still win a title with us," said the former Milan striker.
Voeller managed to turn disappointment into motivation 10 years ago, and Germany exceeded expectations to finish as runners-up.
Loew will hope for the same effect, with a slightly better outcome.
Schweinsteiger, Lahm and company have little room for error if they want to avoid another unwanted silver medal.