Howard Webb fears play-acting could endanger footballers' lives
Last updated on .From the section Football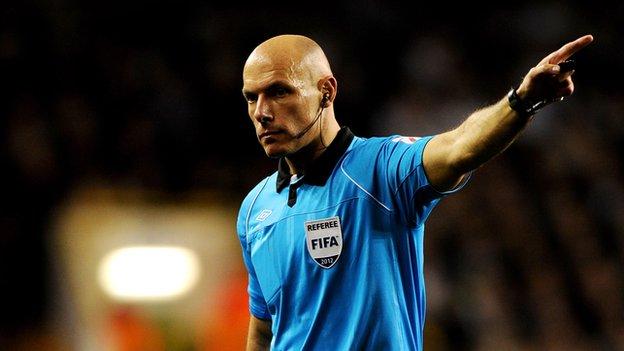 Referee Howard Webb says he is concerned that too many incidents of play-acting could endanger the safety of footballers.
But he believes some players' tendency to play-act could cause referees not to react quickly enough.
"If people cry wolf too often then there is a possibility we will not react as we need to do," Webb said.
Muamba was effectively "dead" for 78 minutes after collapsing in the first half of the FA Cup quarter-final match against Tottenham.
However, the actions of Webb and medical staff on the scene has helped Muamba to make a remarkable recovery.
The official, 40, says it is vital referees are not criticised for stopping the flow of the game, if they are concerned about a player's condition.
"If we come under criticism for stopping the game too many times for doctors or physios to enter the field of play then maybe referees will be inclined not to stop the game," Webb added.
"I think the message we are trying to get across is that it is always better for referees to be safe rather than sorry, not to take chances and for everyone involved in the game to understand that a referee's first priority is to look after the players in the game he is taking charge of.
"If he does stop the play, and it turns out to be nothing, it is not the referee's fault because his priority is the players."
Webb, meanwhile, admitted it was the players' decision, rather than his, to ultimately abandon the game between Bolton and Tottenham.
"The players pretty much decided themselves," he said. "They were clearly of the mind they did not want to continue."
Bolton's doctor Jonathan Tobin, who swiftly treated the stricken Muamba on the scene, said no decision had been taken about the midfielder's playing future.
"It is still too early to be having those discussions," he said. "They will be decided by Fabrice and the cardiologists down in London."
Tobin added that he had been convinced that Muamba would not survive.
"Once we got to the hospital and the cardiologists took over the lead of the care and I could take a step back, then everything just hit me," he said.
"It was just awful. I was sitting in the corridor crying my eyes out.
"The stuff the guys did at the hospital was just phenomenal."