London GB: Christophe Berra favours Scots in GB squad
Last updated on .From the section Football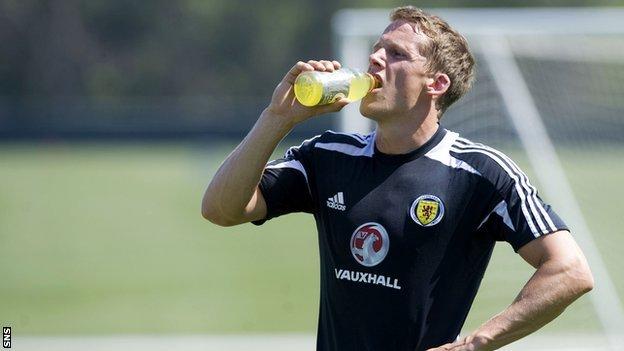 Scotland centre-back Christophe Berra has defended the right of his team-mates to represent Team GB this summer.
The Scottish Football Association cannot prevent Scots' participation but hopes players will refuse to play to safeguard the Scotland team's identity.
"The Olympics are one of the biggest events in the world," said Berra, in Florida with the Scotland squad.
"I think anyone who had the opportunity to play there and represent their country would be mad to turn it down."
The Wolves player added: "The chance to get a gold or a silver medal, you would cherish that for life and you can always say that to your kids and your grandchildren.
"I don't think anyone would rule it out."
One of Berra's team-mates at Wolves is striker Steven Fletcher, whose Scotland future looks to be over while Craig Levein is manager but who may be selected by Team GB manager Stuart Pearce.
"We all know Fletch's ability," said the former Hearts defender, who has a year left on his Wolves contract.
"He's a good player and he has been on fire for us. But that situation, that's down to him.
"I've not really got anything to say on it because it's between him and the manager so we will just see what the future holds.
"I don't really speak to him about it. There's no point really. It's been going on for a wee while."
Berra feels that he performed consistently well as Wolves lost their struggle to stay in the Premier League and is looking forward to the friendly against the United States in Florida on Saturday evening [local time] as Scotland prepare for their World Cup qualifiers in the autumn.
He said: "The USA have a lot of players who play in Europe.
"It will be a tough game, especially in this weather, but it's another game to try to improve and get together as a team and keep on going in the right direction."
Meanwhile, Rangers midfielder Maurice Edu, who may feature in Jurgen Klinsmann's side along with club team-mate Carlos Bocanegra, has admitted that being part of the USA squad is a welcome relief from the troubles at Ibrox.
"It's always an honour to represent your country," said Edu. "The things that are going on at Rangers will hopefully sort themselves out pretty soon.
"It's kind of like a little escape from the situation right now. I can just turn my attention to this and try to focus on doing well at camp and doing well in these games."