Liverpool's Craig Bellamy to boost Wales 2014 World Cup bid
Last updated on .From the section Welsh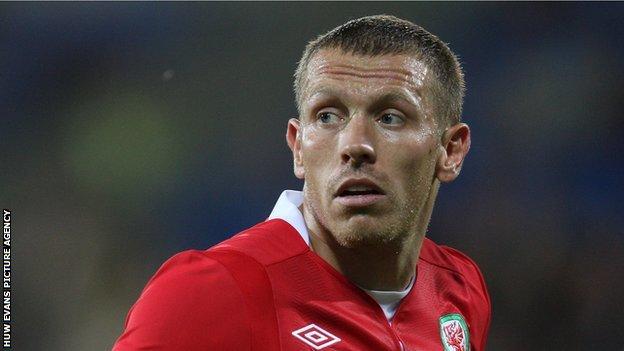 Wales boss Chris Coleman is delighted that Craig Bellamy has shelved thoughts of international retirement to aid their bid to reach the 2014 World Cup.
The veteran Liverpool striker is with the Wales squad in New York for the friendly with Mexico on 27 May.
"I think Craig knows he's a big part of our plans," Coleman said.
"If we're going to do anything in this qualifying campaign then we've got a better chance with Craig being part of us than not and he understands that."
After the game against Mexico, Wales have one more friendly against Bosnia-Hercegovina on 15 August, before they begin their 2014 World Cup qualifying campaign with back-to-back games against Belgium and Serbia in September.
Bellamy has long considered retiring from Wales duty because of a history of knee problems, but despite the toll his body has usually been able to answer his country's call.
"He's 32 and... he's got [nearly] 70 caps and he has put it in for his country, you don't get 70 caps if you don't turn up and I kind of expected he'd be here," Coleman said.
"We've got to look after Craig because he's had that long-term injury, it's difficult for him to play two games in a week.
"But, because of his enthusiasm for football, he wants to play in every game and I'm delighted he's here.
"I've had various conversations with Craig and they've always been positive.
"Craig being Craig he speaks his mind and not everybody likes that, and I suppose we can't agree on everything.
"But in a succesful team, the best teams I've been in, there's always been a little bit of friction and that can be really healthy if it's constructive."
Wales are without star midfielders Gareth Bale and Joe Ledley, plus Sunderland's David Vaughan, Darcy Blake of Cardiff, Neal Eardley of Blackpool and Crystal Palace goalkeeper Lewis Price against Mexico because of injuries.
"We knew we were going to have some pull-outs, I chose to leave two or three of the experienced boys behind anyway," Coleman said.
"The boys have had knocks and bumps and bruises towards the end of a long, hard season.
"Of course it's disappointing when you lose your players, but being realistic we were always going to have some pull-outs.
"It's a good chance for some of the younger players now as well.
"We can have a look at them in training and maybe they'll get some training time in what's going to be a difficult game against a good team in Mexico."