Sepp Blatter wants penalty shoot-out alternative
Last updated on .From the section Football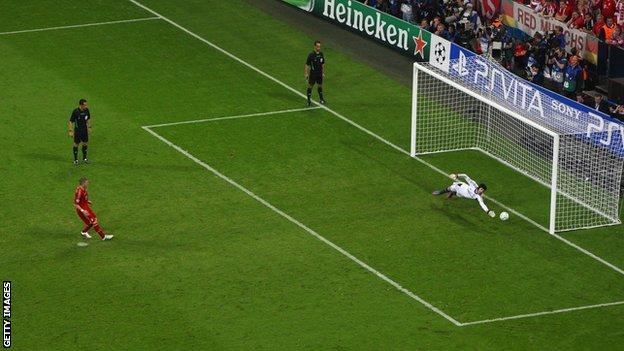 Fifa president Sepp Blatter has asked Bayern Munich honorary president Franz Beckenbauer to come up with an alternative to the "tragedy" of penalty shoot-outs.
Beckenbauer is head of the Football Task Force 2014, a group designed to recommend rule changes.
"Football can be a tragedy when you go to penalty kicks," Blatter said.
"Football should not go to one to one. When it goes to penalty kicks football loses its essence."
He added: "Perhaps Franz Beckenbauer with his football 2014 group can show us a solution, perhaps not today but in the future."
The Champions League final was decided on penalties this season, with Chelsea winning after Bayern Munich dominated the game. It was the 10th time that the European Cup final has gone to a shoot-out.
Zambia also won a major cup in a penalty shoot-out this season, beating Ivory Coast for the Africa Cup of Nations.
The World Cup final has twice been decided on penalties, with Brazil beating Italy in 1994 and Italy seeing off France in 2006.
Blatter referred to the "tragedy" of shoot-outs after Italy's win, although four years later he suggested having all draws in World Cup group games ending with penalties.
The Swiss was speaking to delegates at the Fifa congress on Friday.
Fifa has revealed the decision on the introduction of goal-line technology will take place in Zurich on 5 July rather than in Kiev three days earlier, the day after the Euro 2012 final.
Hawk-Eye, a camera-based system, will be used by independent testers during England's friendly against Belgium on 2 June, although match officials will have no access to data and the trial will have no impact on any contentious goal-line decisions.
Theo Zwanziger, who is in charge of revising Fifa's statues, says that the rule which guarantees the four UK football associations their own Fifa vice-president is outdated. A ruling will be made on it at next year's congress.
"Football has moved on and it is our duty and obligation to decide if the privileges are still justified in our time and age," the German said.
Zwanziger also believes the composition of the International FA Board should be changed. Currently, the UK associations have one vote each and Fifa have four.
Fifa will allocate £48m for insuring players on international duty. The insurance will cover a player's salary from the second to 12th month up to a maximum of £6.2m.
Mark Pieth, chairman of Fifa's independent governance committee, wants to see a number of changes including limited terms of office and age limits on Fifa members and has recommended Fifa set up a public hotline to report corruption allegations.