Hearts director Sergejus Fedotovas cites Rangers 'lessons'
Last updated on .From the section Football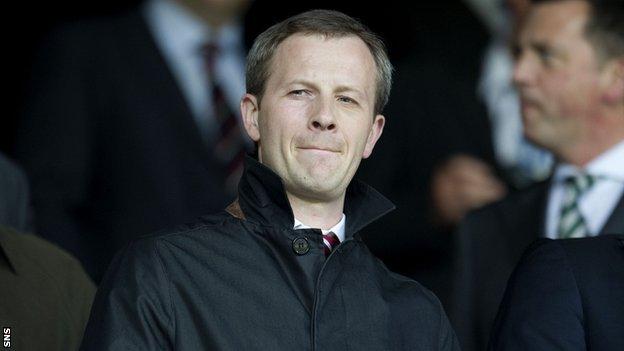 Hearts director Sergejus Fedotovas believes learning lessons from the crisis at Rangers is more important than imposing sanctions.
Rangers, who are being investigated by the Scottish Premier League over possible dual contracts, have been in administration since February.
And the Ibrox club may seek to remain in the SPL as a new company.
"Justice is very important, but lessons learned are more valuable," said Fedotovas.
"Rangers' situation has shown certain problems and many clubs see punishing Rangers as the most important objective.
"The situation has highlighted issues that are much wider and Scottish football should not be narrow-minded and should not put all focus on the punishment, but address the roots of the problem."
Several SPL clubs have highlighted the importance of integrity and reputation when considering how to deal with Rangers while others have stressed the financial rationale for keeping the Ibrox outfit in the top flight.
The league has twice delayed voting on new financial fair play rules for next season, including the imposition of a 10-point penalty for two seasons on clubs who relaunch as newcos.
The member clubs are due to meet again on Wednesday.
"Some problems are personal to individual clubs but there are a lot of systematic problems that should be addressed by acting together," added Fedotovas.