Plymouth Argyle staff to benefit from 'legends' match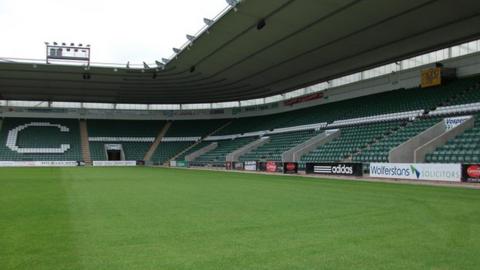 Plymouth Argyle president Chris Webb says the club's staff will benefit from Saturday's game between Manchester United legends and a team of former Pilgrims players.
The game at Home Park will raise money for staff who lost out when the club went into administration.
"The staff had an original payment plan of five years after the club was taken over," Webb told BBC Sport.
"But our ambition is to get them paid as quickly as possible."
The event has been organised by the Green Taverners, who were set up by a group of fans when the club went into administration to help support the players and staff.
Since then they have raised thousands of pounds to buy training kit and help staff members pay their bills when they were not being paid during last year's period of administration.
"A lot of resources have gone into it and we're hoping at the end of the event the Taverners will be able to hand over a significant amount of money to help accelerate their payments," Webb added.
Among the former Manchester United players expected to play are Sammy McIlroy, Clayton Blackmore and Frank Stapleton while the likes of Tommy Tynan and Kevin Hodges are set to turn out for Argyle.