Rangers great Sandy Jardine remembers happier times
Last updated on .From the section Football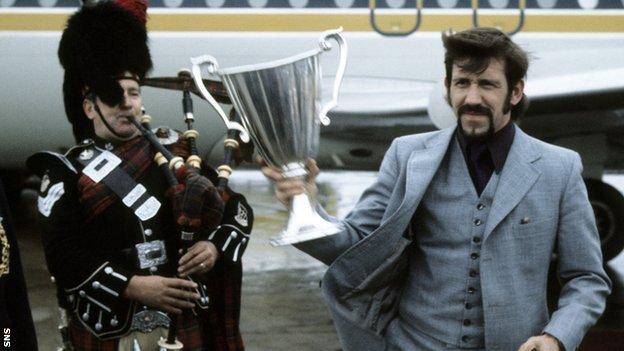 Rangers great Sandy Jardine believes securing the club's future against a backdrop of uncertainty and financial problems takes precedence over celebrating the 40th anniversary of their only European trophy win.
But Jardine, who played in the 1972 European Cup Winners' Cup final win against Dynamo Moscow, still places the 3-2 victory at Barcelona's Nou Camp stadium "at the very top" of the club's achievements.
"It's hard to believe it's 40 years but I've still got a lot of great memories; vivid memories of the whole occasion," Jardine told BBC Scotland. "It's these memories that stay with you.
"In '67, I played in the final against Bayern Munich where unluckily we got beat 1-0 but Celtic won [the European Cup final the same year]. They had one-upmanship because they had won a European trophy.
"The final again in '72 was an opportunity to put a European trophy in the cabinet. We thought we had a really, really good chance. In fact, we were probably big favourites to beat Dynamo Moscow."
Jardine recalls how the Rangers squad acclimatised to the Spanish temperatures ahead of the match.
"Willie Waddell was the manager, Jock Wallace was the coach and Jock said, 'you're not allowed to go in the sun'.
"We had a lot of hanging about just waiting for the game. Me and Alex MacDonald were rooming so we went out on the balcony, hid, and just sat in the sun.
"We came down for a meal before training and Jock says, 'have you been in the sun?' We said, 'no' with a bright red face.
"I also remember the day before the match we went on go-karts. At first we were going a wee bit slow and by the end of the half-hour we had booked, we were whizzing round.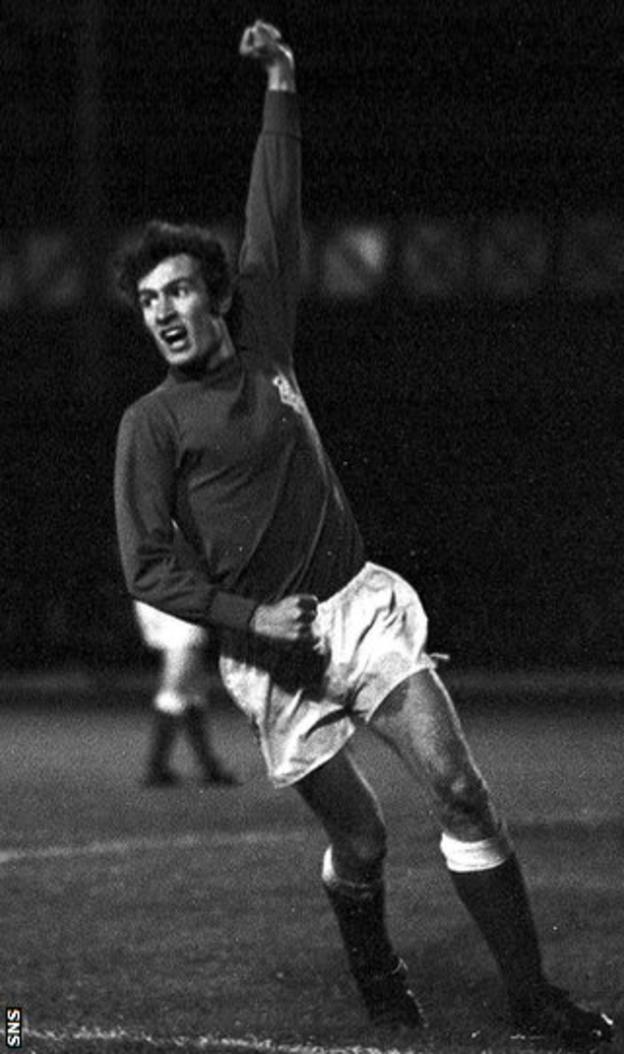 "[Can you imagine] if you had fallen off and missed the final because of that?"
Dynamo were represented by a party of around 300 including players and officials due to restrictions of travel in and out of the former USSR - a population dwarfed by 25,000 Rangers supporters.
However, Jock Wallace was still able to meticulously plan Rangers' strategy against the Russian side.
"Jock went out to Moscow to watch them, which was a feat in itself, getting behind the Iron Curtain," recalls Jardine.
"He came back and had their team line-up. He gave everybody a photograph of the player you were playing against and wrote on the back if he was left or right footed, quick or slow and what his strengths were.
"I was playing against a left winger who was exceptionally quick, all left foot but wasn't the bravest.
"We played very well at the start. Dynamo were a really good team and the first Russian team that had got to a [European] final.
"They played a funny system. They played 4-3-3 and had two wide players that stuck out wide but high up the park and a centre forward who was going back all the time.
"It meant Davie Smith and Derek Johnstone, who were centre-halves, had a lot of the ball and they were absolutely fantastic. Davie Smith created two goals because of it."
Colin Stein fired Rangers' opener midway through the first half and Willie Johnston headed the second before the interval.
Johnston tucked home what turned out to be the winning goal before Vladimir Eshtrekov and Aleksandr Makhovikov replied for Dynamo.
"We raced off and went into a 3-0 lead and we were controlling the game," added Jardine.
"Then they got a goal, which didn't put us under a lot of pressure but they scored a good goal with about three minutes to go. It caused a bit of nervousness but I never felt we were ever going to lose the final. On the night we were a better team than them.
"The final whistle went and the fans came on. We were trying to get to the dressing room and the Spanish police came and drew batons and forced them off the pitch. That was the unsavoury part.
"The police were totally out of order. These people were coming on to celebrate with the team and the Spanish police over-reacted and they drew their batons and started to beat them all. We were down in the dressing room, we didn't see that, we only heard about it.
"John Greig and Willie Waddell went to the Barcelona presidential box and got presented with the trophy there and then Greigy came back into the dressing room with the trophy.
"I've been very fortunate that I've managed to win a lot things but I would say that Barcelona is up there with [appearing for Scotland at] the 1974 World Cup. They are the two highlights of my career.
"Obviously we went into administration in February and the celebrations of 40 years since Barcelona and 140 years of the club's history were put on the back-burner and rightly so because it was about making sure this club survives.
"We'll celebrate and remember Barcelona but the most important thing for our club is to make sure we get through this and move on and get back to where we should be."