Joey Barton: QPR midfielder will not contest long ban
Last updated on .From the section Football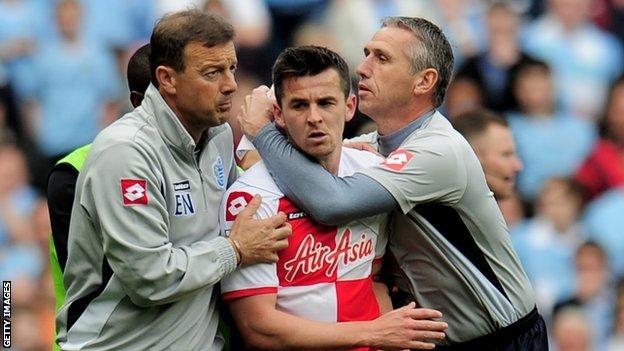 Queens Park Rangers midfielder Joey Barton will not appeal against his 12-match ban for violent conduct.
QPR have also confirmed they have begun a "full internal investigation", expected to last two weeks, into the 29-year-old's behaviour.
He was sent off for fouling Manchester City's Carlos Tevez and found guilty on two charges of violent conduct, against Sergio Aguero and Vincent Kompany.
It is the fourth longest ban the Football Association has ever awarded.
The sending-off occurred on the last day of the season in the match which saw City clinch the title with two injury time goals against 10-man Rangers.
A club statement said: "The QPR midfielder will not appeal against the independent regulatory commission's decision made on Wednesday and he and his team are now working in full cooperation with the club to assist in the internal investigation."
The FA also published the full report by the commission on Friday.
The report says Barton's ban was divided into a four-match ban for the dismissal for elbowing Tevez, a five-match punishment for kicking out at Aguero, and a three-match punishment for attempting to headbutt Kompany.
It adds Tevez appeared to strike out at Barton initially, and referee Mike Dean, via video link, told the regulatory commission that it was a red-card offence which had gone unnoticed.
"The commission accept that Mr Barton was aggrieved by the action of Mr Tevez. This does not however excuse the subsequent action by Mr Barton in relation to Messrs Kompany or Aguero," the report says.
"The commission considered the 'Aguero' incident was a cold and calculated attack from behind. It was premeditated and without any provocation and could easily have caused Mr Aguero injury."
Barton was twice fined by former club Manchester City, for stubbing a lit cigar in the eye of young team-mate Jamie Tandy at a Christmas party, and for his involvement in an altercation with a 15-year-old Everton fan at City's team hotel in Bangkok during a pre-season tour.
While playing for Newcastle, Barton was charged with common assault and affray and jailed for six months.
He was also banned by the Football Association in November 2010 after he punched Blackburn winger Morten Gamst Pedersen during Newcastle's 2-1 defeat at St James' Park.